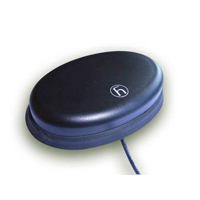 Hirschmann MCA 1620 LP/S Screw Mount Antenna
The MCA 1620 LP/S antenna is supplied with a 150 mm RG174 low loss coaxial cable terminated with an SMA male connector. In addition to available standard configurations, a variety of adapters and extension cables are available in various lengths from Hirschmann Car Communication, Inc. This ground plane independent antenna comes with a robust slotted mounting nut which supports a secure and fast installation independent of cable length and connectors.
Technical Specifications & Features
Proven design for easy single fastener through hole stud mounting.
SMA antenna pigtail enables versatile connectivity (SMA-to-TNC adapters are available as well.)
Length: 10 cm (3.9 in.)
Width: 6.6 cm (2.6 in.)
Height: 2.1 cm (0.8 in.)
Weight: 156 g
Operating temperature range: -40°C to +80°C / -40°F to +176°F
Resources
Login to access additional resources
Document Name
Iridium 9522B - Brochure
File Name
BR_Iridium 9522B_Brochure_(JAN10).pdf
Description
Brochure for Iridium 9522B in English.
Date
January 17, 2018 06:28 PM EST
Related Products
Iridium 9522B (End of Life NOV19), Zuni-C Antenna, Hirschmann MCA 1620 LP/S Screw Mount Antenna, GPS Antenna with TSO for Iridium, GPS Antenna for Iridium, 3.5" Diameter x 4" Tall Diameter Antenna for Iridium, 3.5" Diameter Antenna for Iridium, 2.6" Diameter Antenna for Iridium, 1.5" Square Antenna for Iridium
Related Services
Iridium RUDICS, Iridium Burst®
Verticals
Aviation, IoT, Land Mobile, Maritime, U.S. Government