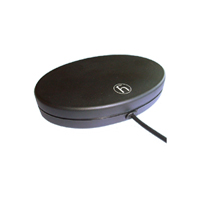 Hirschmann MCA 1620 LP/M Magnetic Mount Antenna
The MCA 1620 LP/M antenna is supplied with a 1500 mm RG174 low loss coaxial cable terminated with an SMA male connector. In addition to available standard configurations, a variety of adapters and extension cables are available in various lengths from Hirschmann Car Communication, Inc. This ground plane independent antenna comes with a self-adhesive magnetic pad which can easily be replaced by an automotive grade double-sided adhesive pad to support permanent installations or installations on non-metallic surfaces.
How it Works
To address the communication challenges in transmitting data from machines that often work in rough terrain at remote sites, the antennas have to meet specific performance criteria along with being rugged and compact. High-tech and high-performance antennas with excellent coverage in the 1616.0 to 1626.5 MHz range are required for commercial use in connection with the Iridium communications system. The antennas will be mounted on the customer's equipment via magnetic patch or adhesive pad to enhance the transmission performance of Iridium communication modems/phones. The appropriate mounting location—a flat surface—will provide a direct view to the sky to ensure optimal signal transmission between the Iridium satellite network and the customer's modem. This auxiliary Iridium antenna is solely dedicated to communicate via the satellite-based Iridium network.
Technical Specifications & Features
Proven design for easy installation.
SMA antenna pigtail enables versatile connectivity (SMA-to-TNC adapters are available as well).
Length: 10 cm (3.9 in.)
Width: 6.6 cm (2.6 in.)
Height: 2.1 cm (0.8 in.)
Weight: 145 g (5.1 oz)
Operating temperature range: -40°C to +80°C (-40°F to +176°F)