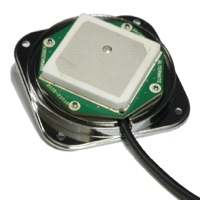 Hirschmann Antenna - Embedded PCBA with Chassis
Hirschmann Car Communication's embedded Iridium antenna PCB-Assembly with base plate provides you with an Iridium certified antenna for quick and reliable integration into your Iridium enabled tracking devices.
Four mounting holes in the die cast base plate ensure secure installation with stand-offs over the modems main circuit board or any other suitable location within the tracking device. Depending on the available space, the embedded Iridium PCBA with base plate may be lifted above other items which might otherwise block the unobstructed view to the Iridium satellites. Alternatively to mounting with screws, this antenna sub-assembly can be mounted with double-sided adhesive VHB tape to an appropriate mounting surface.
The cable length of the standard RG174 low-loss cable and the connector type can be customized to meet the customer's needs. Other cable types are available upon request.
PCBA with base plate, Part Number: HIRD-IX-0112
Technical Specifications & Features
Embedded Iridium antenna in customer device
9.4 mm / 0.37 inches height; 60 x 60 mm / 2.4 x 2.4 inches footprint
PCB Assembly with base plate and mounting holes
Customization of cable lengths, types and connectors possible
Frequency range : 1616 – 1626.5 MHz
Impedance : 50 Ohm
VSWR: = 1.8
Gain: 3 dBic
Polarization: RHCP
Axial ratio: < 4 dB
Load capacity: 8 W
Lightning protection: DC grounded