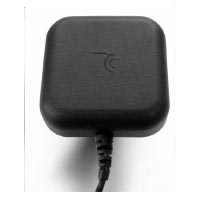 Hirschmann IRD-MX Magnetic Mount Antenna
The Iridium magnetic mount antenna is a small size, high-performance Iridium antenna. This ground plane independent antenna comes with a self-adhesive magnet pad which can easily be replaced by an automotive-grade double-sided adhesive pad to support permanent installations or installations on non-metallic surfaces.
In addition to available standard configurations, the cable length of the RG174 low loss cables and connector types can be customized to meet the customer's needs within the limits of the Iridium system requirements.
Part Number: HIRD-MX-0106
Technical Specifications & Features
Low profile (height 18 mm / 0.7″)
Small footprint (63 x 63 mm / 2.48″ x 2.48″
Customization of cable lengths, types and connectors possible
Adhesive patch for magnetic mount version available
Length: 63 mm / 2.48″
Width: 63 mm / 2.48″
Height: 18 mm / 0.7″
Weight: approx. 150 gr. / 5.3 oz.
Operating temperature range: -40°C to +80°C / -40°F to +176°F
Protection Class: IP66