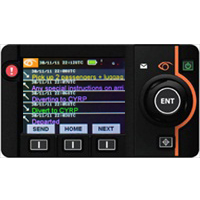 Guardian Mobility Guardian 5™
The Guardian Mobility Guardian 5™ provides global real-time Automated Flight Following (AFF), two-way free form or canned Text Messaging, Alerts, Mark Position and more.
Communicate With Your Aircrew
The Guardian 5™ solution enables you to send and receive messages between your aircraft crew and ground staff. Free-form text messages and pre-formed Pilot friendly messages may be edited "on the fly" before sending. (E.g. "ETA" becomes "ETA 08:40")
Color LCD multi-line display provides conversational Send/Receive text messaging, with 5 messages per screen.
The Guardian Ground Mapping System allows Users to communicate via Text and Aircraft text messages can be forwarded to designated emails.
Track the Location & Status of Your Fleet Aircraft
Real time, automated Flight Following (AFF) aircraft GPS position reports sent at customer defined rates. (e.g. every 2 minutes)
The Mark button sends GPS position reports to identify important ground locations.
The Alert button sends high rate GPS position reports when an aircraft is in difficulties.
The Guardian Ground Web based Mapping System allows multiple Users in different locations to view the location, track & status of all Aircraft in the fleet and Geofence Aircraft, Map highlighted Alerts and events, either live or using historical data.
How it Works
The Guardian 5™ uses Iridium Short Burst Data (SBD) to send and receive messages up to 150 characters per message in an efficient manner. Messages are either GPS position reports or text messages. The Guardian 5™ also supports circuit connections for voice and modem connectivity. Messages are sent from the Guardian 5™ and received by the Iridium satellite with the strongest signal. The Iridium satellite constellation uses the shortest path to transfer the message to the Iridium gateway, where it is immediately sent to the Guardian Mobility redundant ground servers. These servers route the traffic to licensed users who access the information via secure Web based browsers on their PC's or other device using the Guardian Mobility mapping system. Typically in less than a minute a message sent from the Guardian 5™ can be received by Guardian Mobility ground servers, allowing for near real-time communications. The Guardian 5 sends automatic GPS position reports (automatic flight or position following) at regular intervals which are displayed on the users map using the Guardian Mobility mapping system. Text messages sent from the Guardian 5 are presented on the Guardian mapping associated with the aircraft designator (e.g. tail number) and may also be forwarded to Users designated emails. Messages from the ground mapping system operators are sent via the Guardian Mobility ground servers and then over the Iridium network to the selected Guardian 5. (i.e. aircraft or vehicle) Certain messages like Mark, Alert and Start and Stop of the Guardian 5 are presented on the Ground mapping system display with optional highlighting and audio alerts.
Guardian 5 systems are typically installed on aircraft or other vehicle using a quick release mounting bracket and an optional RAM bracket together with easy to position puck style iridium and GPS antennas. The Guardian 5 and antennas can be easily moved from aircraft to aircraft and carried at the end of the trip in an optional bag with power accessories.
Technical Specifications & Features
Guardian Mobility offers a range of worldwide flight tracking and messaging systems for every aircraft operator and Pilot. The Guardian 5 system is optimized to provide enhanced safety, fast and easy single handed communications, resulting in cost savings and fleet efficiency.
The Guardian Mobility G5™ provides global, real-time Automated Flight Following (AFF) and Two-Way Text Messaging. As a stand-alone system, it can be moved from aircraft to aircraft with no need for an STC. Iridium certified.
Guardian 5 Text Messaging Features
Regular position reports are sent automatically, at a user-defined rate.
MARK and ALERT reports can be sent by pressing the dedicated buttons.
Text messages, either preformatted or free form, are sent in near real-time.
The Guardian 5 can receive and display on a color graphic display text messages from the ground system. The received and sent messages are displayed in time sequence in a conversational mode for easy crew access. The Guardian 5 LCD and illuminated LED's can be dimmed or auto timed dimmed at the Pilots discretion.
The ground system operator or the pilot can enter free-form text messages of up to 150 characters and send them immediately. Alternatively, the pilot can select any one of 99 canned messages. The pilot can edit and send a selected canned message, or send the canned message, or create a free form text message and send. The user can also edit or create new canned message lists tailored to their flight operations and missions and store them in individual or fleet wide Guardian 5's.
Lower cost and more efficient conversational message history mode compared to expensive satellite voice communications.
Standalone, portable, lightweight with easy installation and removal from the aircraft, the Guardian 5 unit allows for text messages to be received and sent in near real time without using 3rd party laptops or PDA's on the aircraft.
Pre-formed canned messages, which are editable on the fly by the aircrew, cover the flight profile, including take-off/landing, diversions, ETA's and delays, weather updates, destination needs, cargo, fuel and maintenance issues and much more.
Ability to quickly read and compose complete text messages directly on the Guardian 5 unit using single hand operation.  Ground staff can send and receive messages using the Guardian mapping ground system accessible worldwide by any user with a password protected account web browser PC.
Flight crews can be notified of weather changes, schedule and cargo changes enroute saving operational costs.
Flight operations management can receive event, trip and maintenance reports from flight crews in remote areas.
Guardian 5 Automated Flight Following (AFF) Features
Real-time, Automated Flight Following (AFF) allows you to track your fleet to aid supervisory and scheduling tasks.
Regular AFF reports provide position, altitude, speed, track and time and you can select the report time intervals. Time periods selectable by the user. An authorized user on the ground can view the position reports for the current flight or select a past flight to view an historical track on an interactive map.
The MARK button allows the pilot to instantly mark a waypoint and send the position in a special report to the ground including an explanation text message.
The ALERT button allows the pilot to send an immediate position report with an Alert status to the ground. Periodic position reports are sent at a faster, user-selectable rate until the ALERT is cancelled.
Guardian 5 startup and shutdown event messages can be sent to the Ground mapping system to identify the start and stop of a flight or mission.
Automatic Flight Following allows control of your fleet and location of individual, groups or the complete fleet of aircraft at any time.
Knowing the track individual aircraft are taking and whether the aircraft is deviating from the flight plan route using advanced Geofence tools on the Guardian mapping System.
Aircraft GPS position Alerts from the aircrew in near real-time allow for prompt responses to aircraft emergencies.
Ability to send detailed text instructions to the aircraft if the ground mapping tracking system shows the aircraft is heading into bad weather or for scheduling changes.
Aircrew with a single button push can Mark points of interest on the ground and transmit automatically the GPS position. E.g. forest fire.
Confidence that your aircraft are operating safely and knowing where they are at any time just by accessing the internet from your laptop or PC.
Multiple user access to aircraft tracking information keeps all ground staff up to date. E.g. Cargo handling and scheduling.
Ground Mapping Features Available for the Guardian 5
Built for Guardian by mapping experts, Guardian Mapping, Premium Edition, features rich data sets, including Microsoft Bing mapping data. It offers multiple map layers, including topography, current weather, and the ability to add custom data (locations, third-party and company-specific maps). Guardian Mobility Mapping System allows flight; maintenance and cargo operations to easily two-way text communicate with your flight crew and track your assets from their own PC. Guardian mapping is an industry leading global Web server to support widely dispersed assets.
Two-way text messaging via the mapping interface. The Ground operator can converse with any Guardian 5 equipped aircraft
Text messages from the Guardian 5 can be automatically routed to your designated email account or accounts
Map "trips" with takeoff and landing points automatically recognized
Use event based trip processing and select desired trip start and end tags
Generate useful exportable reports, including time and distance flown for any given period, and for any and all aircraft in a fleet
Create and edit customer landmarks, including air strips, landing pads and fuelling stations
Set Geofences to be alerted when an aircraft strays into or out of a set zone
Visual and audio map indications for Alerts from the Guardian 5, and Mark position events identified
Additional map layers include current North American weather, Aeronautical charts and TAFs and METARs worldwide
Create custom map layers from third party or proprietary maps (for companies with mapped assets, like pipelines)
Export data into KML (Google Earth) format, to create a virtual fly-through of an existing flight
Securely rendered maps (256 bit encryption)
Search tools: search by latitude-longitude, and by ICAO codes for airports
The Guardian 5 is the first building block of the system. It is a flexible, portable unit that communicates via satellite for real-time communications anywhere in the world. Data servers that provide access from any web browser or smart phone round out the network.
The Guardian 5 communicates via the Iridium satellite network, and uses the GPS network for accurate position fixes.
Typical Installation
Weight: 12 oz. (350g)
Power: Internal rechargeable Battery (Life: 4-10hours typical usage)
Size : W 125mm * H 76mm * D 76mm (W 5.00inch * H 3.00 inch * D 3.00 inch) )
Operating Temperature: -20 Deg C to + 55 Deg C ( -4 Deg F to +131 Deg F)
User Interface: 7.2 cm (2,8inch) Color graphic display, with Rotary press to select controls, soft keys and dedicated Mark position and Alert buttons
External interfaces: GPS-SMB, Iridium-SMA, USB, RS 232 serial, 12VDC external charging power
Guardian 5 Base Configuration Includes
101472- GUARDIAN 5 Unit PN
101504- GUARDIAN 5 12VDC Power/Charger cable(Cig lighter) PN
101517- GUARDIAN 5 110-220VAC-12VDC/1A wall power charge adapter
101519- GUARDIAN 5 USB to USB mini cable
101492- CDROM – User Manuals. (Contains User Manual PN 101491, Install Manual 101490, quick start guide 101508 and PC utilities.)
Please select mounting bracket, active GPS and Iridium antenna options from the accessory list or use your own compatible antennas.
Talk to your Guardian Mobility sales representative or valued international partner to discuss other options you may require.
Accessories
Mount
The Guardian 5 can be hand held or mounted on an optional universal quick release bracket
The universal bracket allows for aircraft or velcro mounting as well as being compatible with the RAM mounting systems
RAM systems allow for suction or clamp type mounts for ease of use of the Guardian 5
An optional dual antenna mount is available for either quick release mounting on top of the Guardian 5 or for remote location in the cockpit
Optional Accessories
101482- GUARDIAN 5 Universal quick release Mounting Bracket with RAM mounting holes
100830- Iridium patch antenna and cable
101486- GPS active Patch antenna and cable
101502- 28VDC to 12VDC Power convertor(Cig lighter)
101488- Antenna mounting bracket
101517- 110-240AC to 12VDC/1A Wall Power charger adaptor
101504- GUARDIAN 5 12VDC Power/Charger cable(Cig lighter)
101520- GUARDIAN 5 weather resistant handy carry bag. Will hold Guardian 5, cables, antennas and charger
Talk to your Guardian Mobility sales representative or valued international partner to discuss other options you may require