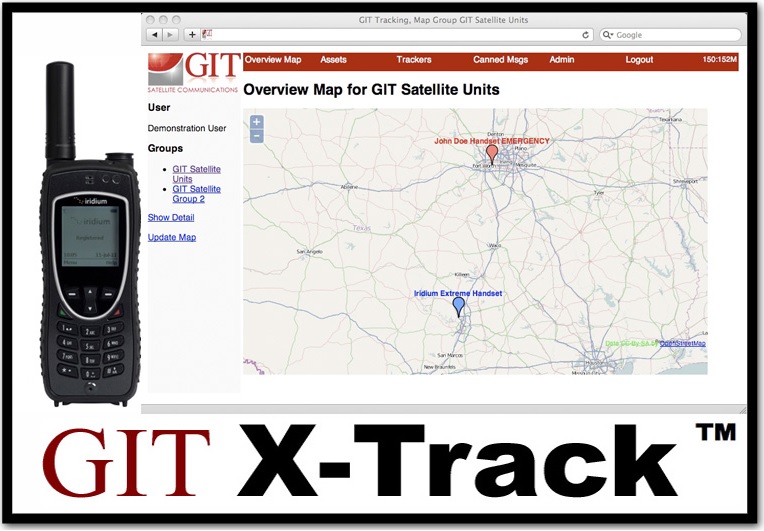 GIT X-Track™ fully supports the Iridium Extreme satellite phone's complete functionality. If the SOS is activated, GIT X-Track™ will automatically notify help, and then notify the sender when help is on the way. No software is needed, just web access. Real-time tracking can be instantly activated. GIT hosts the LBS system in the "cloud", available anywhere, anytime, 24/7/365.
Any GPS-enabled tracking device can be monitored providing you and your employees improved safety and efficiency. Monitoring the location-based devices provides peace of mind and reduces overhead in your organization. The GIT X-Track™ LBS tracking system is always monitoring so you don't have to. Instant notification is provided automatically when any condition that you specify is violated. Notifications can be by email, SMS, changing map symbol, or audio alert.
Technical Specifications & Features
Iridium Extreme Features Supported:
Originated and Terminated Text Messaging
Request Location of Asset
Emergency Call to Designated Personnel
Display Tracking History "Bread Crumbs"
Push Canned Messages
Location and Message History
SOS Support Generates a Visual Alarm, Sends Email, and/or SMS
Set Location Reporting Frequency
Assign Devices to One or More Groups
GIT Extreme™ LBS software is user-friendly, doesn't require software, always on, low cost and fully supports Iridium Extreme functionality.
Portal Hosted in Secure Data Center with 24/7 Monitoring
Requires Web Browser with JavaScript and Cookies
No Custom Software Installation on User's Computer