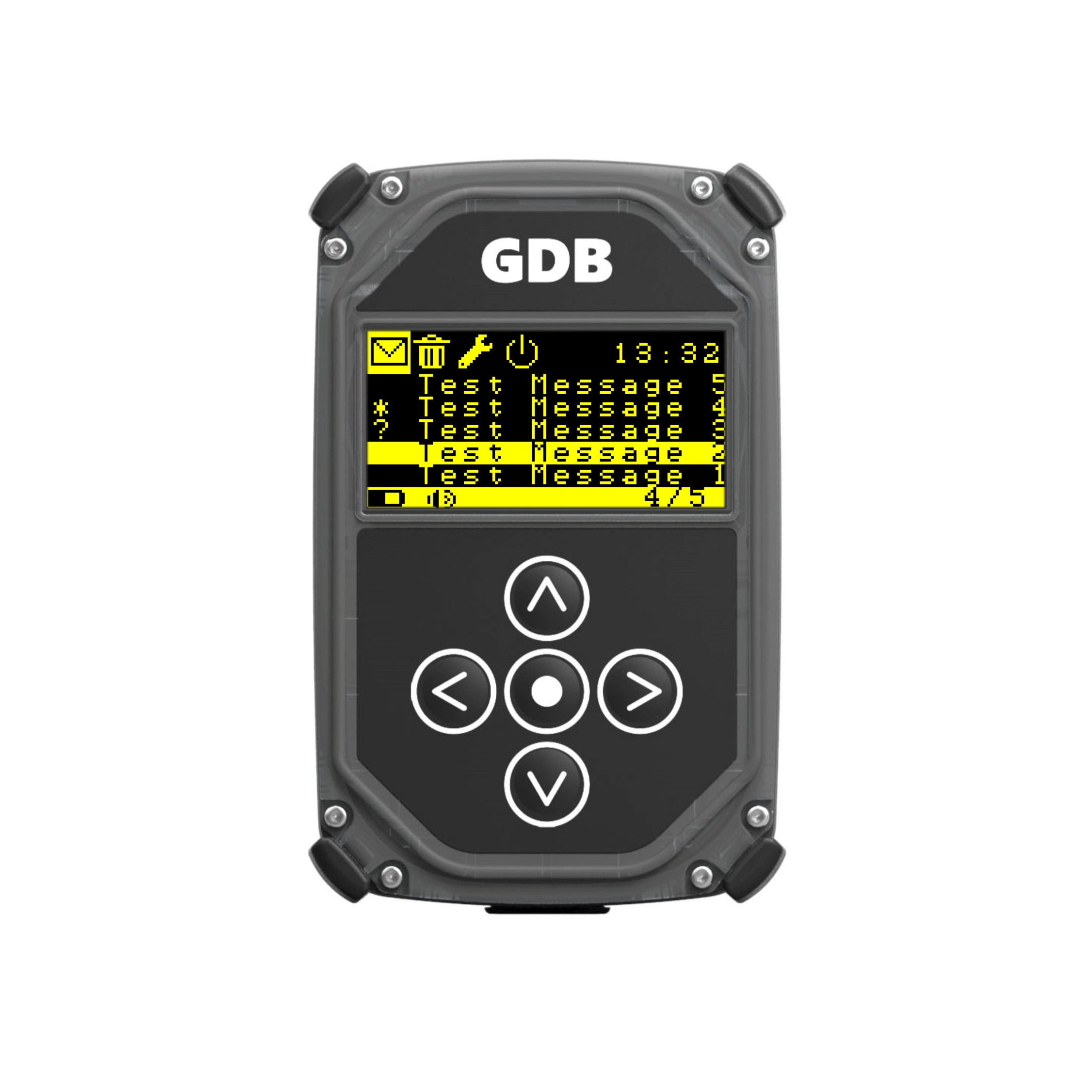 SEND A MESSAGE TO ANYONE, ANYWHERE AT ANY TIME. INDOORS OR OUTSIDE, FROM POLE TO POLE – WE HAVE IT COVERED.
Whilst satellite based paging has been achieved in the past, the reception limitations, software deficiencies and hardware capabilities have severely constrained the feasible range of applications.
The GDB Pager is a revolution in wireless communication technology. Together with the Iridium Burst® satellite service, the GDB Pager offers the first truly global roaming capability in a small, hand-held, personal message receiver. Whilst it offers the best in paging features, the GDB Pager does not operate like a typical pager. Most pagers receive messages transmitted from towers on the ground. The GDB Pager receives messages transmitted directly from the global network of Iridium satellites. With most satellite-based communication, such as satellite TV or the Global Positioning System (GPS), a satellite dish or hand-held unit must be positioned outside of buildings to receive information. However, with the GDB Pager, you can now receive messages inside buildings.
From tsunami warnings to weather and traffic alerts, over-the-air updates and other machine-to-machine (M2M) applications, the GDB Pager presents an unrivalled opportunity for businesses, government agencies, military and other entities to broadcast and receive data.
Highly cost-effective
You can deliver data to an unlimited number of enabled devices within a targeted geographic region at a fraction of the cost of comparable services.
Quick delivery
Highly actionable and specific information is transmitted in near real-time — often in under 20 seconds.
Powerful transmission
High-powered satellite transmissions penetrate buildings, partial obstructions and weather phenomenon to reach devices.
Stealth
In receive-only mode, no transmissions are made, a feature valued highly by some customer segments.
Secure communications
Customer-defined closed user groups ensure that only authorised devices see the messages. All your messages are always encrypted end-to-end, with optional 2-Factor authentication for ultra-security.
Ease of Use
The ability to send one transmission to thousands of devices simplifies the management of message delivery, especially to high device-density locations.
Online tools
Sophisticated web-based and smartphone tools enable you to create and dispatch messages to any geographical area. Click here to find out more about the GDB Portal.
External antenna option
Extend the reach of Iridium Burst indoors with GDB Boost. The external antenna provides you with the same level of coverage you would have if you were outside!
Find out more at GLOBALDATABURST.COM
Technical Specifications & Features
MECHANICAL SPECIFICATION
Dimensions: 115 mm x 72 mm x 31 mm
Weight: ~220g
Enclosure: Polycarbonate with rubber cover. Rugged Design to withstand rough treatment and use in rough conditions.
Waterproof IP67.
Connector: USB Micro
ELECTRICAL SPECIFICATIONS
Input Voltage: 5.0VDC
Peak Input Current: 1.0A @ 5.0VDC
Battery Type: Lithium Ion
Battery Capacity: 2600 mAh
Charging Voltage: USB 1.0, USB 2.0 or 4–5VDC
ENVIRONMENTAL SPECIFICATIONS (ELECTRONICS)
Operating Temperature: –40°F to +185°F (–40°C to +85°C)
Operating Humidity: ≤ 75% RH
Storage Temperature: –40°F to +185°F (–40°C to +85°C)
Storage Humidity: ≤ 93% RH
ENVIRONMENTAL SPECIFICATIONS (BATTERY)
Operating Temperature: –4°F to +140°F (–20°C to +60°C)
Operating Humidity: ≤ 90% RH
Storage Temperature: –4°F to +140°F (–20°C to +60°C)
Storage Humidity: ≤ 95% RH
Charge Temperature: 32°F to +113°F (0°C to +45°C)
ENVIRONMENTAL SPECIFICATIONS (OLED DISPLAY)
Operating Temperature: –40°F to +185°F (–40C to +85°C)
Operating Humidity Range: ≤ 90% RH
Storage Temperature Range: –40°F to +185°F (–40°C to +85°C)
Storage Humidity Range: ≤ 95% RH
BATTERY DETAILS
Cell: LIC 18650-22 L
Rated Capacity: 2550mAh min., 2600mAh typical
Nominal Voltage: 3.7V
Watt-Hour Rating: 9.6Wh
Protection Circuit Module (PCM): Yes
UL recognised component: Yes (1642)
Battery Directive compliant: Yes
RoHS-Compliant: Yes