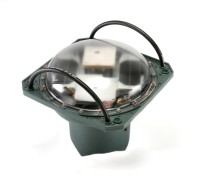 Marine Instruments - M3i Fishing Buoy
Marine Instruments' M3i is equipped with double power supply system by rechargeable batteries by solar panels and back up package of alkaline batteries, which provides a theoretically unlimited autonomy and security due to its extra energy reserves.
The buoy includes an Iridium 9602 Transceiver with antenna, GPS receiver, temperature sensor, flash-light, electronic circuit with microprocessor, 500W echo-sounder with transducer, and magnetic (on/off) switch. The buoy has an easy to open design.
How it Works
Once activated, the M3i buoy transmits a message via satellite that includes the information about the GPS position in latitude/longitude, echo-sounder, the water temperature, and the battery level in volts.
The M3i buoy has possibility of various operation modes: Low Consumption Mode: It transmits 2 positions per day. During this mode the information of the echo-sounder is captured every 2 hours and is sent in the message (6 pings by position).
Approach Mode: It transmits 4 positions (every 3 hours) for 12 hours. Stored information in the echo-sounder every hour during this mode (3 pings in every position).
Recovery Mode: Transmits a first position at once and then new positions every 15 minutes during 2 hours (1 ping in every position).
Poll Mode: Transmits a position and one ping some few minutes after requesting (polling).
Flash Mode: Activates the flash and transmits every 15 minutes for an hour. Echo-sounder information stored every 15 minutes (1 ping in every position).
Changes in the operation mode are made from the on board terminal in an easy and automatic way. It is also possible to make some adjustment in the echo-sounder gain by remote control.
The reception of messages on board is via satellite and it is automatic and unattended. The data presentation is made on the MSB Reception Software also developed by Marine Instruments with C-MAP cartography. The operation mode changes are made with a simple mouse click.
Various menus can be selected, such as: listing of all the buoys, listing of the last positions of a buoy, graphical representation of all the buoys with different colors, graphical representation of one buoy and, of course, echo sounder presentation of each M3i buoy. The position information can be sent to be represented in a MAXSEA plotter.
Technical Specifications & Features
Built in echo-sounder to determine if there are fish under the buoy.
Transmissions are encrypted, making the system safer.
Global coverage due to satellite transmissions.
Flat rate fee means reduced communication costs.
No metallic parts, no external antenna, small dimensions external housing, transparent upper cover with no reflection-proof finish. All this makes the buoy undetectable by both visual and radar.
Flash for an easy night location.
The battery has a theoretically unlimited autonomy. In case of any problems on the solar panels or rechargeable battery, there is a back up alkaline battery pack which assures the operation of the buoy.
Mushroom design assures excellent stability in open sea.
Weight: 8.9 kg
Battery: Rechargeable Battery by Solar Panels and Back-up Alkaline Batteries Pack
Floating: 4l
Working Temperature: -5ºC a +40ºC
Measurements: 32 cm high x 42,3 cm as a Maximum Wide. According to Drawing
Echo-sounder: 50 kHz. 500W
Compatible Software : MSB 2.0 or Upper