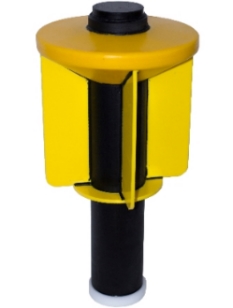 Fastwave - Voyager Drifter Buoy
The Voyager Drifter Buoy provides near real-time ocean current, sea surface temperature and oil spill tracking data via Iridium satellite telemetry.
The Voyager transmits GPS position, sea surface temperature and battery voltage and delivers the data to Fastwave's secure servers. From there it is decoded and made accessible through an on-line data management portal, or data can be delivered directly to your applications. The Fastwave management system enables clients to send commands to the Voyager to change reporting intervals (2 min – 24 Hour) or geofences to be set up. Additional sensor options, e.g. fluorometer, turbidity, compact weather station and AIS enabled version for local vessel alerting and tracking options are available. Voyager Drifter Buoy features include, Long endurance – eg around 300 days at three hourly reporting, Re-useable, User replaceable, long shelf-life, flyable D-Cell alkaline battery pack. Robust, compact design – drop launch from up to 15m without parachute, Simple to deploy with magnetic on/off switch, LED and vibration alert for on/off and remotely adjustable reporting interval (2 Min – 24 Hrs.) Additional accessory options include Marker flag and strobe light to assist in recovery, Drogue for sub-surface tracking, Parachute for airborne deployment and a Transport Case.
Unlike spherical drift buoys, the Voyager's unique fin design and low freeboard ensures close coupling with the ocean surface layer and minimum wind influence. The Voyager has very simple operation and deployment procedures, making it ideal for oil spill response and emergency Search and Rescue (SAR) applications. Robust construction allows the Voyager to be dropped overboard from vessels or offshore platforms, or deployed from aircraft using an optional parachute.
Applications Include:
Ocean Current Tracking
Sea Surface Temperature Monitoring
Oil Spill Modelling and Tracking
Outfall and Ddredge plume Tracking
Maritime Search and Rescue Operations
Contaminant and Debris Tracking
Coastal Engineering Studies
Water Quality Studies
Coral Spawning Studies
Technical Specifications & Features
Height Overall: 510mm
Diameter: 250mm
Weight: 4.7 Kg
Material: High Density Polyethylene (HDPE)
Power Supply: Alkaline D Cell Battery Pack (12 X D-Cell, 9V)
Communications: Iridium Short Burst Data (SBD) – Iridium Satellite & GPRS
Temperature Sensor: Water Temp: -2 to +65 Degrees Celsius
Operating Life: Minimum 2000 Transmissions with Fully Charged Battery Pack
Deployable from Small Boat, Ship, Rig or Aircraft with Optional Parachute
Optional Accessories: Parachute for Aircraft Deployment, Drogue & Line for Coupling to Sub-surface Layers (Specify depth), Recovery Flag on 2m Mast, Recovery Strobe Light, Transportation and Storage Hard Case