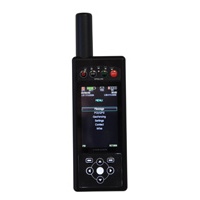 The E-Track EPSILON is a tracking and two-way communication device based on the Iridium 9602 Transceiver. In addition to its tracking and alert transmission functions (alert button, motion and shock sensors), the EPSILON, allows sending and receiving free (or preset) text messages (using on screen keyboard and three inches LCD color screen) and to report points of interest (POI). It can be used in extreme environments in almost all fields of application.
Epsilon device could either be powered from three primary lithium cells or three NiMH rechargeable batteries or an USB host port and an external high voltage source.
How it Works
The EPSILON allows tracking function (recurrence adjustable by user):
To send or receive free or preset text messages (from / to email address, GSM, …)
To send Alert (button HELP, motion and shock sensors) messages
Note: In Alert mode, EPSILON device, switch automatically to a higher recurrence. Use of "SEND" button allows going back to Normal mode:
To record Point Of Interest (POI)
To create zones (geofencing mode)
To navigate to a waypoint (compass function) EPSILON has been designed to work with an external antenna if needed.
Technical Specifications & Features
Rugged Handheld Messaging Tracker Autonomous
Waterproof
AA Batteries or Rechargeable Batteries
External 7.5 v to 50 v DC Power Supply
Embedded NiMH / NiCd Battery Charger
Two-way Text Messaging (Free and Preset Messages)
High Resolution Color 3 inches LCD Screen
Alert and Alarm Functions
Motion and Shock Sensors
Compass Function (go to function)
Point Of Interest Function (POI)
Geo-fencing Areas
Data Logging
Integrated Iridium and GPS Antenna
Extreme Conditions Operation
Low Power Mode
Optional AES Encryption
Mechanical
Rugged and Waterproof (IP 67)
Dimensions : 14.3 cm (5.63 in.) plus 4,7 cm (1.85 in.) Antenna x 5.7 cm (2.24) x 3.1 cm (1.22 in.)
Weight : 270 g (310 g with 3AA Lithium Batteries)
I/O Interface USB
Temperature
Operation : – 40 °C (- 40°F) to + 85 °C (185 °F)
Storage : – 40 °C (-40°F) to + 85 °C (185°F)
Power Requirement
Internal 3 AA Lithium, Alkaline Batteries or NiMH/NiCd Rechargeable Batteries
External Input Voltage 7.5 to 50 volt
Screen
Type 3" TFT Transflective Color Screen
Resolution 400 x 240
Memory
Recording Capacity : 139810 Positions
Recording Rate : Adjustable from 1s to 18.2 h