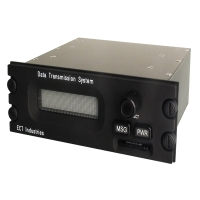 ECT - DTS (Data Transmission System)
Overview
The Data Transmission System is a cockpit on-board tracking and data transmission device that transmits real-time GPS location, altitude, bearing, time and velocity information over the web, through a secure Internet connection using IE or Firefox or more. A self-contained device, the DTS only requires connecting one antenna and the power supply, making it very convenient for helicopters.
The pilot can use the friendly interface to send pre-recorded messages to the ground by simply rotating and clicking one push button. Installation and integration cost on aircraft are minimized.
Tracking history is available on the web as well as on a SD card directly accessible on the front panel. The DTS device is DO-160D approved and STCs are available on several aircrafts.
Click here to learn more on the NSE Group website.
Technical Specifications & Features
Set-up of pre-programmed messages, broadcast frequency and schedule.
Worldwide coverage.
Automatic transmission of GPS position, date and time, speed, bearing and latitude.
Broadcast of short messages (SBD) triggered by manual or automatic events (zone entry, threshold overage).
Data recording on SD card.
DTS remote configuration.
Technical Specification
Unlimited Recording Capacity (SD Card)
Dimensions 146x48x130 mm
Operating Temperature -20°C to +70°C
Weight 750g
Display 2-lines (18 Characters/line)
Messages Length 189 Characters
Storage Temperature -40°C to +85°C
IO/Mount
Data RS232/RS485/RS422
Iridium TNC GPS SMA
Power Input SUB D 15
Input (Optional) 2 Analogs/2 Digitals
Mounting 4 Dzus Complying with NFL 65211
Operational Requirements
Power Consumption 3 W to 6 W
Power Requirement 15 – 36 VDC
Certification
Regulatory Compliance D0-160D,
A/C STCs are Available on Many Aircraft