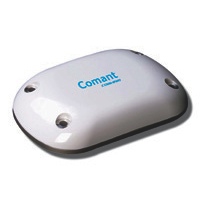 Comant Cl 401-490 Antenna for Iridium
Our low-profile Iridium antenna is Iridium-frequency-only allowing its narrow-band tuning to provide optimum Iridium performance. Why? Other aviation antennas must go "wide-band" to capture the nearby GPS frequency for FAA TSO which reduces efficiency. But we are the first with a specially designed, Iridium only aviation patch that meets and earned the new FAA TSO C159a for satellite communication. Designed for both fixed wing and rotorcraft airframes, and operating with both Iridium-based voice and data communications devices, the single channel aviation patch provides continuous coverage from 1616.0 MHz to 1626.5 MHz for excellent Iridium operation. Mechanical configuration is the standard aviation ARINC 743 footprint with injection molded radome, aircraft aluminum base plate and integral Nitrile 'O' ring.
How it Works
The CI 401-490 is intended for aviation use and must be mounted on top of the aircraft with an unobstructed view of the sky. Follow Comant's Installation Instructions and always refer to the FAA AC 43.13-2B.
Technical Specifications & Features
Aviation-standard ARINC 743 "bar-of-soap" footprint
FAA C159a satellite communication TSO
Narrow-band 1616.0 MHz to 1626.5 MHz coverage
RTCA DO-160 G Environmental tested
Category [1B] Direct Effects Lightning
Height:  .90 in.
Width:  2.90 in. maximum
Length:  4.72 in. maximum
Weight: 6.2 oz. maximum
TNC Female connector
VSWR: 1.5:1 maximum
R/L:-13.98dB
POLARIZATION: RIGHT HAND POLARIZATION
RADIATION PATTERN: HEMISPHERICAL
IMPEDANCE: 50 OHMS OUTPUT (NOMINAL)
GAIN (MEASURED ON 4′ CIRCULAR GROUND PLANE): +3.0 dBic @ ZENITH
POWER HANDLING: 6.5 WATTS AVG.
LIGHTNING PROTECTION: DC GROUND