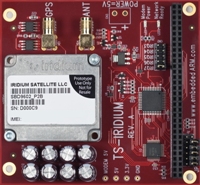 Celestech TS-Iridium Modem
Celestech's TS-IRIDIUM board makes it easy to pair the Iridium 9602 transceiver with a family of readily available, standards-based computers and other peripherals as well as a proven software development environment to allow for rapid development and deployment of SBD® applications without the need to develop custom hardware. The board measures 3.5 x 3.75 inches and can be stacked as part of any PC/104 system. It comes with an Application Program Interface software library for Linux.
A wide range of compatible, inexpensive, low power consumption, rugged computers and peripherals are available from our partner Technologic Systems. The range of available devices include: Single Board Computers (ARM, Intel), Networking (Ethernet, Wi-Fi, zigbee), modems (cellular, telephone), digital and analog I/O (DAC, ADC, IDE), power supplies, memory modules, real time clocks, relays, video, and more.
The Celestech TS-IRIDIUM board comes with a Linux Application Program Interface library that allows for rapid integration of the Iridium SBD functionality into your software application. The API provides a simple procedure call interface that encapsulates the functions needed to manage the sending and receiving of SBD messages using the TS-IRIDIUM board. The API library has been certification tested along with the TS-IRIDIUM board by Iridium.
Note that any end user applications developed using the TS-IRIDIUM must be certified by Iridium prior to deployment. Celestech can help you with developing and certifying your SBD applications using this platform.
How it Works
The Celestech TS-IRIDIUM consists of an Iridium 9602 Short Burst Data Modem integrated with a PC/104 form factor board. This board plugs into any PC/104 system computer. The Celestech TS-Iridium comes with an Application Program Interface (API) software library that allows the Short Burst Data service to be accessed from your software applications. The TS-IRIDIUM board supports all of the control signals to/from the 9602 modem including power on/off, full hardware handshaking on the RS-232 interface as well as the hardware Ring Indicator.
Technical Specifications & Features
Ruggedized – Exceeds Environmental Specifications of Iridium 9602 SBD Modem
SMA antenna Connectors for an Iridium Antenna and an Output to an External GPS Receiver
The Board Measures 3.5 x 3.75 in. (8.9 x 9.5 cm)
Stackable as Part of any PC/104 System
Includes Linux API Library
API Library and TS-IRIDIUM Board Have Been Certified by Iridium
Size: 3.5 x 3.75 in. (8.9 x 9.5 cm)
Operating Temperature: -40oF to 185oF (-40oC to +85oC)
Operating Humidity: =75% RH