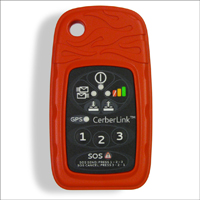 Not the first, but the best. As its legendary name suggests, Cerberus is a three-part system that will guard and protect you just as the mythical three-headed dog guarded and protected the gates of the underworld. The Cerberus global communication system is comprised of three elements:
The CerberLink™ is a small, ruggedized, two-way satellite communications device that wirelessly pairs with your smartphone. It lets you communicate when other devices call it quits.
The CerberTouch™ application installs on your smartphone. It lets you compose and send messages and distress messages, displays new messages and incoming alerts, and drops breadcrumbs. CerberTouch operates with a satellite or Internet connection.
The CerberCenter™ is the web server that routes all satellite and Internet messaging and automatically transmits critical weather, health, geopolitical and news alerts to your CerberLink or smartphone.
Technical Specifications & Features
The Cerberus global communication system is loaded with features. Give the system a test drive and download the CerberTouch app at no cost from iTunes® the Android Market or BlackBerry App World™. Or, write our own app or integrate a sensor network, for example, using the CerberLink API. Try a CerberLink for yourself; rent or buy one from cerberus.briartek.com.
Messaging
Inbox: 4096 Messages
Outbox: 128 Messages
Distress Outbox: 128 Messages
Tracking
Crumb box: 4096 Breadcrumbs per User
Usage
Stand-by Life: 60 days
On Life: 7-14 days
Mechanical
Dimensions: 4.74″ x 2.64″ x 1.27″
Weight: 186 grams
Environmental
Waterproof: 1 meter (IP67 compliant)
Operating Temperature: -20°C (-4°F) to +55°C (131°F)
Stowage Temperature: -30°C (-22°F) to +70°C (158°F)
Electrical
Battery: 2000mAh lithium polymer
Iridium 9602 transceiver
High Sensitivity GPS Receiver Bluetooth Transceiver