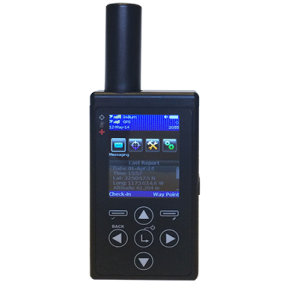 Blue Sky Network - HawkEye Personal Tracker
Overview
The HawkEye Personal Tracker (PT) makes ensuring the safety and keeping track of workers in remote locations easy. Blue Sky Network's HawkEye PT is a rugged, handheld Iridium satellite-based personal tracker, tapping the complete network of Iridium Low-Earth Orbit satellites. The HawkEye PT works with SkyRouter, Blue Sky Network's interactive web portal, for mapping/tracking, 2-way data communication, and emergency alerts. The HawkEye PT is well suited for any portable global tracking application.
How It Works
The HawkEye PT transmits all data to SkyRouter, Blue Sky Network's interactive web portal that enables immediate access to tracking data on—and communication with—every person and asset around the globe. The HawkEye PT not only enables tracking; it enables two-way communication through a hi-res color LCD screen with a keyboard display. Workers in the field can easily and quickly reach out in event of emergency, and dispatchers at HQ can quickly redirect personnel or alert them to changing circumstances, such as weather. Additionally, the HawkEye PT can "wake up" and send position reports automatically, and at whatever interval you require. Your personnel don't have to lift a finger for you to know where they are.
Battery life is extensive in the PT. For example, you can send more than 1,200 reports on a single battery charge. Set those reports for 10 minutes apart, and that's eight days of battery life on one charge.
Other Benefits Include
Event Notifications (Emergency, Waypoints, Check-ins)
An Emergency Call Feature
Audible Message Alerts
GPS Position Alerts
USB Host Interface/Cable
A Panic Button (Red Button with Flip-guard in Above Image)
Remote Parameter Settings
Technical Specifications & Features
Low cost personal tracker and two-way messaging device
Handheld, rugged, always reliable
Lightweight: only 6.5 ounces
Compact: 4″ x 2.2″ x 0.8″
Send messages from SkyRouter to each PT
Ultra low power consumption
Automatic position reports (>1200 on one battery charge)
Flip-guarded panic button
Waypoint soft key (easily mark points of interest/danger)
Check-in soft key
Able to send 300-character email messages
Real time, pole-to-pole coverage
Easy battery charging: AC adapter and USB
GPS Receiver Type
1575.42 MHz (L1)
50 channel, C/A code
Accuracy
Update Rate
Start-up Times
< 1 second hot start; 29 second warm/cold start


Electrical

Sensitivity: -160dBm
Input Voltage Range: 2.7VDC to 5.5VDC
Input Nominal Range: 4.0VDC
Power Consumption: Less that 40uA@5.oVDC during standby
Power Input Type: External DC power or internal battery

Iridium RF Board

Operating Frequency: 1616 to 1616.5 Mhz
Link Margin Downlink: 13 dB average
Link Margin Uplink: 7 dB average
Average Power Transmission: 1.0 W

Environmental

Operating Temperature: -40°F to 185°F (-40°C to 85°C)
Operating Humidity: <75% RH