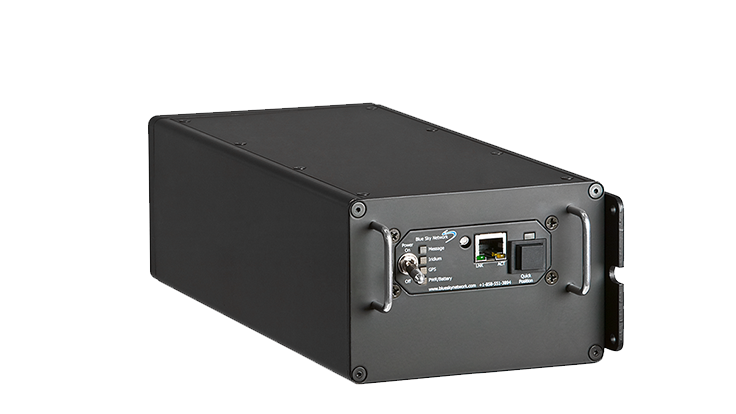 Blue Sky Network - D1000A Flight Tracking Transceiver
Overview
Blue Sky Network's D1000A Iridium satcom aircraft tracker provides efficient, safe, secure, and global coverage for aircraft tracking. The FAA and Iridium certified D1000A enables optimized fleet utilization through extensive reporting capabilities and backend analysis tools. When paired with the ACH1000, the D1000A offers the ability to make voice calls and have two-way messaging.
Fleet managers can login to SkyRouter, our cloud-based tracking web portal, to maintain, view and communicate with multiple aircrafts simultaneously on a single map from a centralized command center. SkyRouter also enables over-the-air device parameter configuration, such as the reporting interval, allows for two-way messaging and e-mail, and can eliminate routing mistakes by supporting flight information. Reports such as GPS position, take-off/landing, altitude, and on/off gate make it easy for fleet managers to effectively track their aircraft. The crew can push a Quick Position (QPOS) button on the control head of this real time flight tracker, which immediately sends an alert to SkyRouter notifying fleet managers that an emergency has occurred.
The D1000A aircraft tracker, designed for fixed installation with a ½ ATI control head mounted in the cockpit panel – or complete portability – with the control head installed inside the main transceiver unit – integrates an Iridium L-Band Transceiver for data transfer and a built-in GPS sensor for position reporting. When permanently installed, the tracking device / modem is placed remotely in an avionics bay, while the corresponding control unit can be installed directly into the cockpit control panel of the aircraft. When portable, the two units fit together and weigh about six pounds.
Features
Near real time private flight tracking

Single-channel antenna feed for Iridium and GPS

Internal or panel installed control head

Quick position (QPOS) alert button

Two-way email messaging

Ethernet port for access to internal web pages

RS232 port for telemetry data retrieval

Minimum en-route altitude

Altitude-based reporting interval

LED status indication for message waiting, GPS signal, and Iridium signal

Compatible with ACH1000

Global Iridium-based satellite tracking

Automated Flight Following (AFF) compliant

Utilizes SkyRouter, cloud-based web portal

Satellite voice communication and flight information: fuel on board, ETA, travel time (enabled by ACH1000)

Customized event alerts: take-off and landing, min in-route altitude, power on/off, on/off gate

Over-the-air device parameter adjustments

Manual power on/off control

Certifications: Iridium, PMA, FAA, EASA, ANAC
Benefits
Fleet Efficiency: Real-time notification of asset location and other events that could impact your business; assist in flight planning and efficient deployment of assets; track all assets on one map or track each asset individually.
Pole-to-Pole Global Satellite Coverage: The Iridium low latency global network is made up of 66 Low Earth Orbit (LEO) satellites that provide coverage anywhere in the world.
Enhance Aircraft Location: Quick Position (QPOS) button, two-way messaging and optional voice capability allow pilots to notify their command center in the event of emergency, when used in conjunction with the ACH1000.
Ease of Use and Flexibility: SkyRouter Web portal allows users to conveniently access and communicate with all assets.
Specifications
Installed Communication Device Dimensions: 3.5″ x 5.3″ x 12.5″
Weight: 6.1 lbs
Power Requirements: 10 VDC – 30 VDC
Nominal Current: <1A Continuous, <3A Peak (at 28 VDC)
Operating Temperature Range: -20° C to 60° C
Iridium Data Circuit Frequency: L-Band
GPS Frequency: L-Band
Short Burst Data Frequency: L-Band
LED Indicators: Power (on/off), Iridium and GPS signal Strength, Message waiting (on/off), Ethernet (link/active), QPOS (on/off), Laptop/PDA I/O: Ethernet (RJ-45)
Data I/O: DB9 for ACH-series control heads RS232 DB9 for telemetry data retrieval Mini-DB9 for firmware upgrades
Antenna Options: Single or Dual Channel GPS/Iridium tuned, fully TSO'd
FAA Certification: DO-160D
Connectivity & Available Plans
Available Plans
The D1000A requires a data service plan for tracking and messaging / communication. If the ACH1000 is purchased, a voice service plan is also required for voice communications.
Service Plan Pricing
Data Plans start at $75 per month
Voice Plans start at $45 per month
Connects with SkyRouter Command Center
This device is equipped to connect and work with the SkyRouter Command Center.