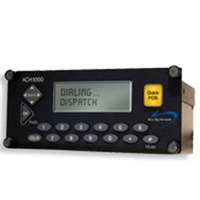 Blue Sky Network - ACH1000 Advanced Control Head
Overview
Blue Sky Network's Advanced Control Head (ACH1000) aviation transceiver is the perfect satellite tracking tool for pilots, operators, and fleet managers around the globe. Working in conjunction with our D1000-series Iridium transceivers, it is the ideal upgrade to add voice and messaging capability to and from the cockpit. The ACH1000 control head integrates with the on-board intercom system, allowing the pilot or co-pilot to easily dial or receive calls directly through the headset. Users can pre-program up to 10 speed-dial numbers, delay, route diversion and weather requests. The crew can also easily receive and read email messages from the iridium transceiver display. Moreover, with the simple push of a Quick Position (QPOS) button located on the ACH1000 display, a message is quickly sent to the SkyRouter portal, key email addresses, and mobile phones.
Technical Specifications & Features
Global Iridium voice calls via D1000A or D1000C transceiver

Quick Position (QPOS) alert button

Speed dial or standard dial options

Pre-programmed short code messages

Flight planning

Integrates with on-board intercom system for aviation communication

LCD display

Remotely manage all settings from SkyRouter, our cloud-based web portal

Optional indicator for incoming call and message waiting

Certifications: FAA, EASA, ANAC, Iridium 
Dimensions: 2.6″ x 5.0″ x 5.0″
Weight: 1.5 lbs
Connectors: DB25 connector for connection to D-Series product and on-board intercom DB9 connector for power
Optional LED : Indicator for incoming call and message waiting
Benefits
Pole-to-Pole Global Iridium Satellite Coverage: The Iridium low latency global network is made up of 66 Low Earth Orbit (LEO) satellites that provide tracking coverage anywhere in the world.
Enhanced Fleet Communication: Short code messages can be sent from the ACH1000 device to SkyRouter. E-mail can also be received by the ACH1000.
Enhanced Aircraft Location: Quick Position (QPOS) alert button, two-way messaging, and optional voice capability allows pilots to notify command center in aviation emergencies, when used with the D1000A and D1000C transceivers.
Ease of Use and Flexibility: SkyRouter, cloud-based web portal, allows users to conveniently access and communicate with assets.
Seamless Headset Integration: The ACH1000 connects easily to the D1000-Series transceiver and the on-board Intercom system for seamless headset integration. 
Connectivity & Available Plans
Available Plans
The ACH1000 requires a voice service plan for communications.
Service Plan Pricing
Voice Plans start at $45 per month
Connects with SkyRouter Command Center
This device is equipped to connect and work with the SkyRouter Command Center.