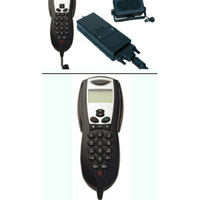 Beam - TranSAT RST620 Terminal
Overview
The Beam TranSAT Fixed Satellite Telephone provides a complete hands-free voice and telephone for a wide range of mobile and fixed site applications where easy access to reliable voice and data communications is required.
The terminal provides a compact fully functioned user handset and supports both hands-free and privacy modes of operation, automatically switching between either mode with the handset in or out of the cradle. The system can also be used as a permanent non hands-free solution simply by not connecting the microphone. The loud ring indication through the speaker system makes it an ideal installation in a noisy environment.
The RST620 is equipped with an RS232 serial data port to access Iridium data services.
There are added features that enable the unit to be integrated into communications systems via the line in/out, serial data connectivity, radio mute, horn alert and a robust inbuilt 10 – 32 VDC power supply.
Technical Specifications & Features
Voice/Data/Internet/SMS
Iridium 95522B Satellite Interface
Compact Intelligent Handset
Sturdy hang-up Cradle
Compact Installation
Convenient serial data port
Private or hands-free mode
Echo cancellation
Superior voice quality
11 – 32 VDC power input
SMS/SMSMO
Optional tracking and monitoring capable
Intelligent processor and interface
Support external ringer/light
Auxiliary and constant power
Fully certified – RoHS
Easy to install
Power Specifications
| | | |
| --- | --- | --- |
|  Power input voltage | 11 – 32 V DC | |
| Power consumption (AMPS) | 12 VDC | 24 VDC |
| Stand by* – incl handset | 0.33 | 0.14 |
| Transmit – incl handset | 0.63 | 0.23 |
Environmental Specifications
| | | |
| --- | --- | --- |
| | Degrees °C | Degrees °F |
| Operating Range | -15 to +55 | +5 to +131 |
| Storage | -30 to +85 | -40 to +185 |
| Humidity | 85% non condensing | |
Physical Specifications
| | | |
| --- | --- | --- |
| Dimensions – mm | 196.4 x 82.6 x 39 | 183 x 103 x 27 |
| Dimensions – inches | 7.73 x 3.25 x 3.25 | 7.2 x 5.1 x 1.0 |
| Weight – kg | 0.659 | 0.30 |
| Weight – lb | 1.45 | 0.66 |
Connectors / Interfaces / LEDs
Transceiver: D25
Intelligent handset: RJ45 DPL BUS
Data port: RS232 Serial Interface
Speaker: 3.5 mm mono
Microphone: 2.5 mm mono
Constant power: Screw connector
Auxiliary power: Screw connector
Horn alert: Screw connector
Audio mute: Screw connector
Certifications
IEC60945
Electrical safety
EMC compliance
Independent Aeronautical certification MUST be gained prior to installation
Kit Contents
Iridium 9522B Transceiver module Main terminal
Hands-free and power interface
Cable assemblies: DC cables, interface cables
Mounting adhesive/velcro
Data cable
User and installation manual
CD – Beam management system, AT commands, manual