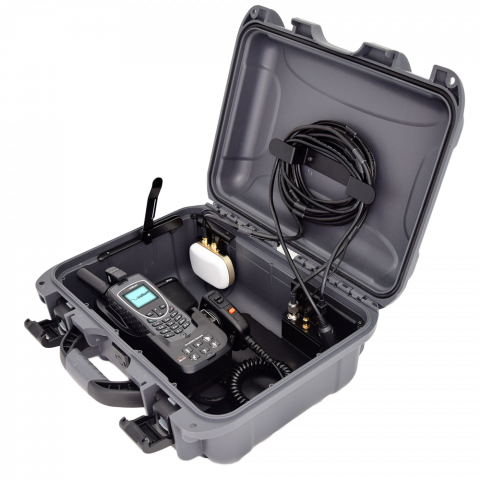 Grab 'N' Go Corded Kit for Iridium Extreme® PTT
Overview
The Beam Iridium Extreme® Push-To-Talk Grab 'N' Go Corded Kits are a cost-effective PTT solution. The in-built DriveDOCK supports all features of the Iridium Extreme® PTT service complete with a speaker and microphone making it ideal for a range of applications.
Beam PTT Grab 'N' Go Corded solution provides clear and improved PTT audio quality via the loudspeaker in the corded handset. The PTT Grab 'N' Go Corded kit supports the Extreme® handset in either PTT mode or standard voice mode. The same set up is available in a large case with in-built UPS Battery or a small compact case*. * UPS Battery option is not available in the Small case.
Use Cases
Ideal for Transportation, Mining and Emergency Applications
Features
• Dual Mode Antenna
• Durable Speaker and Mic Handset
• Enhanced Clear Audio
• Talk In or Out of the Vehicle
• Intuitive Design, All In-built to a Durable Easy to Carry Case
• All Weather Resistant Case
• Optional UPS Battery Kit
• Integrated Iridium and GPS Antenna
• Support Push-to-Talk (PTT)
• Support Voice Calling Via the Iridium Extreme PTT Device
Kits
• Iridium Extreme PTT Grab 'N' Go Corded + UPS Large Kit (PTTGNG-C1B)
• Iridium Extreme PTT Grab 'N' Go Corded Small Kit (PTTGNGS-C1)
•
Learn More
Visit Beam's website.