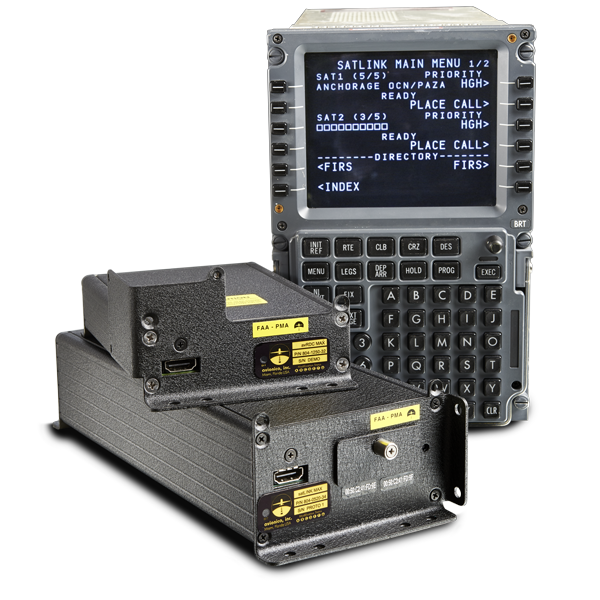 Overview
satLINK MAX provides up to four channels of Iridium™ satellite-based voice and data communications. Truly global, reliable, affordable, real-time datalink and voice communications are finally possible. From ATS voice to complete FANS-1/A integration, satLINK MAX is your SATCOM solution.
High Performance
Avionica has installed hundreds of satLINK systems that are in service worldwide. With our experience in designing, manufacturing, certifying, and installing airborne Iridium communications, Avionica has developed "best practices" and patent-pending software applications that yield the best performance from the Iridium network, and meets the requirements of RTCA DO-262.
Low Weight, Easy Install
satLINK MAX delivers high performance with minimal impact to aircraft operations. Our unique two LRU architecture yields the lowest weight installation in the industry while simultaneously adding value-add functionality including 4G and WiFi wireless communications, QAR FOQA capture and telemetry, and EFB AID solutions.
Part of the Wired Aircraft
satLINK MAX is a core component of Avionica's Wired Aircraft concept. Switched Ethernet ports provide connectivity between peripheral devices and access to the Iridium network. Optional Cabin WiFi supports 802.11 a/b/g/n and wireless SIP phones. Optional 3G/4G Terminal WiFi supports access to groundside servers when parked. And these are just a few of the possibilities.
Flexible Configuration
Avionica understands that our customers' operations are unique, so we offer satLINK MAX with a choice of voice and data channels, as well as a variety of additional capabilities and options. In addition to solid ATS voice and datalink, operators can avail themselves of integral Quick Access Recorder (QAR) functions. Communications Management Functions (CMF) are available to provide AOC ACARS for aircraft without CMUs.
Comprehensive Integration
No additional controls, handsets, or displays are required. satLINK MAX integrates directly into the aircraft's existing Audio Control Panel. satLINK MAX is a replacement for your ARINC 741/761 (e.g. Inmarsat) SDU, and provides dialing capability via the aircraft's existing ARINC 739 MCDU or ACARS IDU. The same interfaces can also be used for data messaging, routable over the aircraft's existing ARINC 724/758 MU/CMU. Status and annunciation are accomplished over the existing EICAS system.
Technical Specifications & Features
Lightest Iridium system available (2lbs 5oz)
High performance, low-loss antenna installation
Up to four Iridium voice/data channels available
SBD-MAX™ ACARS datalink optimization (pat. pend.)
Integrated DO-262 compliant GPS isolation filters
FANS-1/A compliant for FANS over Iridium
Safety Services compliant for ATS voice over Iridium
ARINC 741/761 SATCOM compliant interface
ARINC 739 MCDU / ARINC 724B IDU Interface
ARINC 724 MU / ARINC 758 CMU Interface
ARINC and SITA network qualified
Standard Remote SIM and Personality Module
Standard QAR Function
Size/Weight/Conformities
| | |
| --- | --- |
|  Dimensions |  9.82 (L) x 4.24 (W) x 2.58 (H) inches |
|  Weight |  2 lbs 5 oz |
|  Conformities |  DO-262, DO178, DAL D |
Interfaces
4 Switched 10/100 Mbit Ethernet ports
1 ARINC 717 receiver (recordable)
1 RS 422 receiver (recordable)
9 ARINC 429 receivers (3 recordable)
7 ARINC 429 transmitters
4 RS 232 receivers
5 RS 232 transmitters
10 programmable (input/output) ARINC 410 discretes
4 RTCA DO-214 audio input (with microphone bias)
4 RTCA DO-214 audio output
STCs: B737, B757, B747 (1Q2017), B767, B777, A320 (2Q2017), A330 (3Q2017)
Optional 802.11 Cabin Wireless LAN Unit (CWLU)
Optional 802.11 wireless SIP VoIP call management support
Optional 4G Wireless Terminal LAN Unit (TWLU)