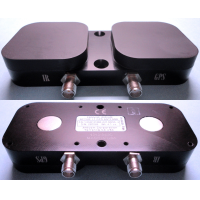 The 1.5GIR1516RR-A2P-MNSS-4 Iridium Antenna is intended for land/mobile and portable applications and will work with both voice and data communication systems.
In addition to available standard configurations, the cable length, connector types, connector location, and mounting hole pattern can be customized to meet the customer's needs within the limits of the Iridium system requirements.
This active L1 GPS and Iridium Antenna is designed to provide excellent coverage in the 1616.0 to 1626.5 MHz range and L1 GPS 1575.42 ±13 MHz, with or without ground plane.
Technical Specifications & Features
Customization of cable lengths, connector types, connector location, mounting holes pattern and color of the antenna
DC grounding for lightning protection
Hermetically sealed
GPS
L1 GPS Frequency: 1562.42 – 1588.42 MHz
Polarization: RHCP
VSWR: 1.5:1
Gain: +4.6 dB
Axial Ratio: 2.0dB
Impedance: 50 OHMS
DC Supply: 2.8 to 28 VDC
Iridium
Iridium Frequency: 1610.0-1626.5 MHz
Polarization: RHCP
VSWR: 1.5:1
Gain: +5.0 dB
Axial Ratio: 2.0dB
Impedance: 50 OHMS
Mechanical
Weight: 3.50 oz (99 grams)
Size: 3.64 in. x 1.56 in. x 0.63 in. (92.5mm x 39.7mm x 16mm)
Height: 0.63 in. (16 mm)
Operating Temperature range: -55°C to +85°C
Resources
Brochure
Last Updated
Size

Jan 17, 2018
743.28 KB

| | |
| --- | --- |
| Size: | 743.28 KB |
| File Name: | BR_Iridium 9522B_Brochure_(JAN10).pdf |
| Vendor: | Iridium |
| File Type: | PDF |
| Description: | Brochure for Iridium 9522B in English. |
| Products: | Iridium 9522B |
| Services: | Iridium Burst®, Iridium Postpaid Calling, Iridium Prepaid Calling, Iridium RUDICS, Iridium Short Burst Data (SBD) |
| Verticals: | Aviation, IoT, Land Mobile, Maritime, U.S. Government |