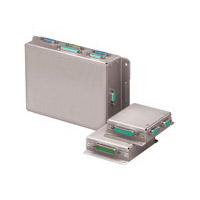 Overview
Aircell Axxess EZ is a multi-channel, satcom system. With its "network neutral" design philosophy, Aircell Axxess EZ equips aircraft with a modular, flexible cabin architecture that serves the operator's needs today, and provides the ability to upgrade as new technologies and links become available in the years to come.
Aircell Axxess EZ comes standard with two built-in channels of Iridium satellite communications for quality, worldwide voice and narrowband data services with full PBX functionality. Also standard are Aircell's FAA-certified handsets with large, color displays—an industry first—as well as advanced noise reduction technology and standard ear bud/headset jacks for clear, quiet calling. Optional wireless capabilities include a full 802.11b/g Wi-Fi "hotspot" which, when paired with a broadband connection, can be used to operate personal laptops, PDAs and other Wi-Fi devices in the cabin.
By using Aircell Axxess EZ's integrated expansion ports, up to two additional Iridium channels can be added to suit an operator's needs. Additional system capabilities are coming online regularly.
Choosing Aircell Axxess EZ as a MagnaStar-replacement system also gives operators a rapid and economical path to Aircell's new air-to-ground broadband service.
Technical Specifications & Features
Aircell's MagnaStar® Replacement System
Two Built-in Iridium Satcom Channels
Office-style PBX Functionality for Iridium and Inmarsat Satcoms
Support for Wi-Fi
Support for Aircell's Proprietary Broadband Service
High-speed Data Expansion Port for Inmarsat and Other Networks
Cockpit Flight Information