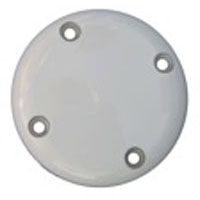 AT2775-110GA Single Channel Aviation Patch
This low-profile Iridium/GPS antenna (AT2775-110GA) is an Iridium-frequency antenna designed for both fixed wing and rotorcraft airframes and works with Iridium-based voice and data communications devices. The single channel aviation patch (Iridium/GPS) provides continuous coverage from 1565 MHz to 1626.5 MHz for excellent Iridium operation as well as GPS L1 applications. Mechanical configuration is a spherical-radius molded radome which provides enhanced protection against rain, ice, and lightning strikes. It is qualified for high-speed military aircraft as well as ARINC applications.
The AT2775-110GA is FAA TSO approved C-144.