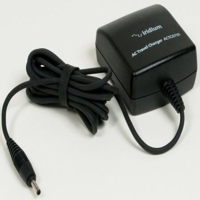 Iridium 9505A / Iridium 9555 - AC Travel Charger
This AC Travel Charger for Iridium 9505A and Iridium 9555 satellite phones provides a rapid charge for optimal performance.
Part number: ACTC1801
Technical Specifications & Features
May be used with Iridium 9505A or Iridium 9555 satellite phone.
Enables use of satellite phone while recharging battery.
Battery charge time to 90% capacity is 3 hours when charged at 25°C (77°F).
For optimum performance, only charge your battery between 0°C (32°F) and 40°C (104°F).
Fast charge will be complete in about 3 hours 15 minutes.
Input: 100-240 VAC, 50-60Hz
Output: 6 VDC, 850 mA
Operating temperature range: 0-40°C
Charge time: 3 hours 15 minutes