Iridium is committed to environmental causes all around the globe. From climate change monitoring, to carbon footprint reduction, to wildlife protections, our technology enables many solutions designed to help make the world a safer, cleaner place.
The Ocean Cleanup Project
The Ocean Cleanup is an ambitious project seeking to rid the world's oceans of plastic garbage by conducting the largest ocean cleanup in history. To do so, the team has created a system of 600-meter-long floating plastic collectors that include a 3-meter-deep skirt designed to collect plastic pollution. Iridium has joined the project as the preferred satellite communications partner. The Ocean Cleanup system is equipped with two Iridium Pilot® terminals providing the Iridium OpenPort® broadband service, which allows the autonomous system to relay critical systems data back to the team in Rotterdam, including compartment flood detection, position and location information, pictures (like the one to the right), 360-degree video, and system performance information. As The Ocean Cleanup team scales up the project to 60 systems, Iridium and AST will continue to support the mission with terminals and service, and plan to begin providing Iridium CertusSM hardware and services once it becomes available. Click here to learn more about our involvement in The Ocean Cleanup.
---
Carbon Footprint and Green House Gas Reduction through Aireon
Aireon, a joint venture for Iridium, will deliver reduced Green House Gas (GHG) emissions to commercial airline operations around the globe. According to the International Civil Aviation Organization, commercial flights contribute about 2 percent of manmade CO2 emissions annually. Aireon uses space-qualified Automatic Dependent Surveillance – Broadcast (ADS-B) receivers, specially built into each Iridium NEXT satellite, enabling the first truly global air traffic surveillance system. Using this technology, the aviation industry will be able to limit fuel emissions by improving operations in remote and oceanic airspace through more precise locating capabilities and optimal altitudes, speeds, and routes. According to a 2016 study at the Purdue University School of Aeronautics, "From 2020 to 2030, space-based ADS-B can make it possible to prevent approximately 14.3 million metric tons of CO2 from entering the atmosphere. This is the equivalent to removing more than 300,000 cars from U.S. roads each of those years."
---
Polar Research
Our commitment to providing unparalleled, reliable pole-to-pole coverage enables researchers to engage in crucial activities, like O-Zone level measurement, polar ocean profiling, weather forecasting and data transmission, wave movement measurement, and Arctic Ocean mapping. We've partnered with various research groups and individuals to support this work with donated equipment and airtime on our network. Click here for more information on our polar research solutions.
---
Wildlife Protection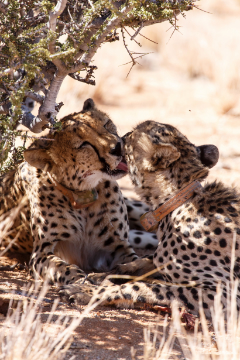 Iridium is a proud supporter of wildlife protection efforts around the globe. As wildlife continues to decline at alarming rates around the world, we are committed to collaborating with conservation organizations and scientists to use our technology for monitoring wildlife and fighting against poachers. We have a strong history of partnering with various organizations like Smithsonian National Zoo & Conservation Institute, Zoological Society of London, and Veterans Empowered to Protect African Wildlife (VETPAW) to develop solutions and donate resources that help protect global biodiversity.
---
Global Climate Monitoring
Iridium and its partners offer a range of IoT solutions that support climatology research and tracking. We understand the importance of this work in protecting our precious planet, so we are proud to support various independent research groups and individuals with donated equipment and airtime that allows them to conduct this critical work through scientific explorations, especially in remote areas. Visit the Iridium blog to follow the work of these researchers!