« Back
Snap. Post. Win. – Show us Everywhere You GO!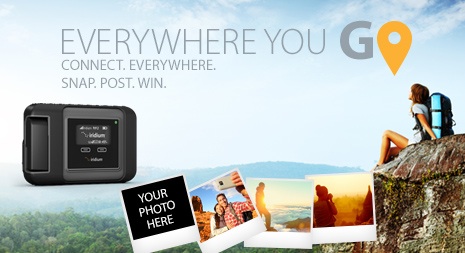 Iridium is inviting its Facebook and Twitter users around the world to send photos of remote locations where they have used or will use an Iridium GO!
It's easy to enter. Join us for the ride!
Think back to a situation where you were out of range of communication and needed to keep in touch with those back home. Iridium GO! is the world's first ever global connection for voice and data communications, that lets you use your very own smartphone device. Texting, calling and accessing your favorite apps is now made possible with the new portable, rugged and compact Iridium GO!
This is an opportunity to win your very own Iridium GO! How do you enter? Simply show us "Everywhere You GO"!
How to Enter
Snap – What far off locations have you travelled outside cellular coverage and used an Iridium GO! to stay connected? Where will you travel next and plan to bring along an Iridium GO!? Take us on a trip with you! We want to see photos of remote locations and hear how an Iridium GO! was or will be used on your journey.
Post – Visit the My Iridium Facebook page from October 15th to November 28th, and upload your photo with your email address and a brief explanation of where the photo was taken. Tell us how Iridium GO! helped you stay connected with friends and family. Traveling somewhere soon? Tell us about the location and how beneficial it would be to have an Iridium GO!. Provide details for more chances to win!
Win – Weekly prizes consist of Iridium travel packs. The grand prize is a brand new Iridium GO! plus 400 minutes of airtime!
Share – Receive additional entries for the grand prize for every 'like' and 'share' your photo receives. Make sure to use the #EverywhereYouGO hashtag on Twitter, Facebook and Instagram to increase your visibility into our contest.
That's all there is to it. Now show us #EverywhereYouGO!