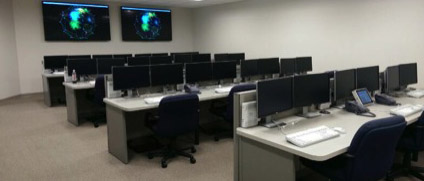 It's "All Systems Go!" at Iridium, as the upgrade of the System Control Segment (SCS) and development of the new Launch and Early Operations (LEOP) control center has been completed.
Marking another major milestone for Iridium NEXT— the completion of the infrastructure will be operating the Iridium NEXT satellites from launch through the entire Iridium NEXT mission.
To reach this milestone, Iridium has been working closely with our Iridium NEXT Mission Team partners: The Boeing Company and L-3 Telemtry-West, whose InControl™ software suite has been integrated into the SCS.
The InControl™ software will provide vital command and control capabilities, facilitating the management of the Iridium NEXT fleet while in-orbit, allowing us to efficiently track the status of our satellite constellation and ensure we are providing the highest quality of global communications services to our customers at all times.
The newly developed LEOP control center will act as the central hub where we will manage the Iridium NEXT satellites once they've separated from their launch vehicles. Additionally, the LEOP will be responsible for testing the satellites to ensure in-orbit functionality as well as monitoring while they are transferred into the mission constellation.
With the completion of the operational infrastructure, Iridium is one step closer to the realization of Iridium NEXT — anticipated to begin launching in 2015. Once in-orbit Iridium NEXT will usher in the future of global satellite communications for our customers with greater reliability, low latency, and increased bandwidth.