There's cause for celebration at Iridium as a significant milestone has been reached in the Iridium NEXT project. As of last week, the development of the first Iridium NEXT satellite engineering model has been completed, and with this achievement we are one step closer to the realization of the future of truly global satellite communications.
Luckily we were able to capture this historic moment in the following video:
The fully functional satellite engineering model — known as EM0 — arrived at Iridium's Technical Support Center (TSC) in Phoenix, Arizona on Tuesday, July 29th. While the model will not be sent into orbit, it has been carefully designed to test the functionality of Iridium NEXT technology as well as verify the compatibility between the upcoming Iridium NEXT satellites and the current constellation within a controlled lab setting. Additionally, by connecting the satellite model to the Iridium Satellite Control System, we will be able to conduct command and control testing with actual flight software and hardware.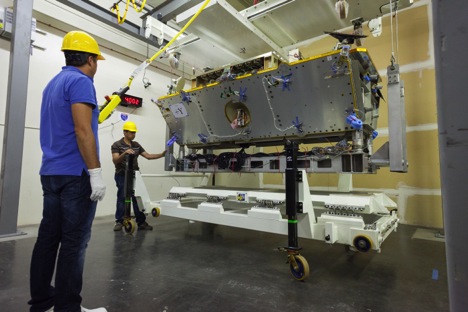 The completion of the model marks the beginning of the next phase of the Iridium NEXT program — which is scheduled to begin launching in 2015 and is expected to provide improved service to 2030 and beyond.
For more information on Iridium NEXT, go to www.iridium.com.