« Back
Iridium NEXT Satellite Constellation – Coming to a Launch Pad Near You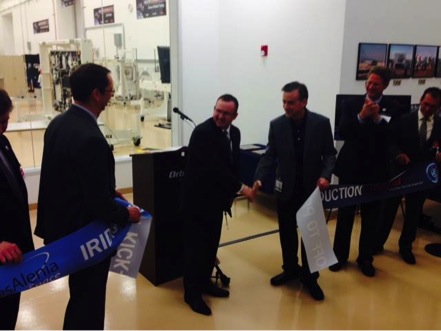 Fasten your seatbelts! Production of Iridium NEXT – Iridium's second-generation global satellite constellation – has officially begun!
Bringing to life the world's largest commercial satellite constellation is no small undertaking. Across the globe, aerospace and telecommunications engineers are working alongside Iridium technicians and project managers to design, build and launch 66 operational satellites and 6 in-orbit spares. The Iridium NEXT Mission Team consists of 30 extraordinary industry-leading companies, one of them being Orbital Sciences, a leading satellite manufacturing company.
Last month, Orbital announced it has started the production of 81 Iridium satellites as part of a contract agreement with aerospace company Thales Alenia Space. Orbital hosted a ribbon cutting ceremony to celebrate this game-changing milestone which took place at their satellite manufacturing facility in Gilbert, AZ. They will complete the assembly, integration, test and launch support phases of Iridium's second generation global satellite constellation.
Now that production has started, the fun can begin. With three to four satellites being assembled each month, Orbital is using an assembly line approach, a process unique in the industry, but also required for the fast-paced Iridium NEXT schedule.
With the first launch expected in 2015, Iridium is on schedule to fully replace its current satellite constellation of 66 cross-linked Low-Earth Orbit (LEO) satellites covering 100 percent of the globe.
Iridium NEXT will dramatically enhance Iridium's ability to meet the rapidly-expanding demand for truly global mobile communications on land, at sea and in the skies.
The engineering innovation behind Iridium NEXT goes beyond the satellites themselves to the opportunities they represent — setting the stage for exciting possibilities not yet imagined. Iridium NEXT will provide the same set of unique services both voice and data offered today, but with the promise of increased speed and capacity, ensuring:
Long-term viability of solutions already at work, and those developed after launch
Exciting upgrade paths for new capabilities
Efficient integration of applications with Iridium® solutions
Unique support for Iridium NEXT hosted payloads and Iridium PRIME℠
To learn more about this incredible program, here's a behind-the-scenes look at the making of Iridium NEXT.