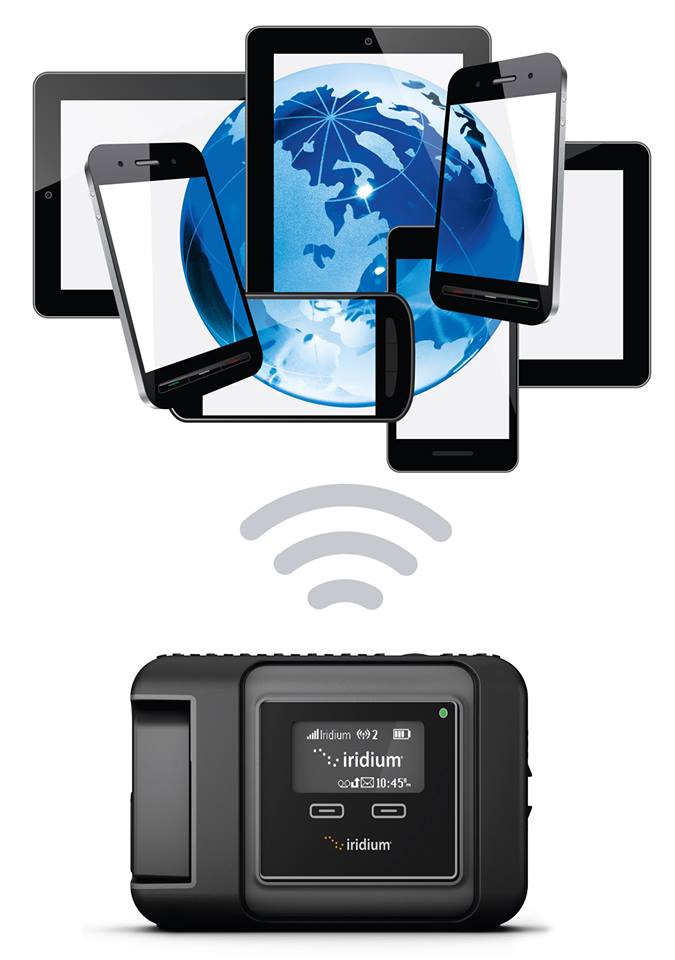 The big splash hits this summer, Iridium GO!™ is coming. Catch the wave with the Iridium GO! mobile application developer program! Send us your ideas for innovative mobile applications and make history with Iridium and Iridium GO!.
Iridium GO! sparked the attention of the global satellite communications community at the premier event for satellite communications, SATELLITE 2014. Why was this compact, rugged, portable device a hit to SATELLITE 2014 attendees? Iridium GO! is the first satellite-backed Wi-Fi hotspot, connecting you beyond the reach of terrestrial networks. It enables not just one, but up to five phones or tablet devices to make calls, receive emails, send text messages and use various applications anywhere on the planet. It has the potential to change the realm of personal satellite connectivity devices in ways never thought possible.
What can you do with Iridium GO!?
Joel Thompson, Vice President, Product Management at Iridium participated in a special product presentation on Iridium GO! at SATELLITE 2014. "I learned that the customers are not excited about the tech specs of a new device; all they really care about is what this device will do for them", he said. And Iridium GO! will deliver, no matter if you are a remote resident, first responder, explorer, diplomat, soldier, or a trucker. Send up to 15 text based emails in a minute, receive a weather package in 20 seconds with 16 different weather metrics or take a picture and email it or post it on social media.
"To extend the flexibility of Iridium GO! deeper in to the enterprises, deeper in to the government organizations, NGO-s, military and police, we created a mobile application developer program", Joel Thompson said. Once a developer builds an application, it will be placed in the Application Marketplace section on Iridium.com and customers can see compatible Iridium GO! applications and download them from their respective Android or iOS application store. This means that Iridium GO! will continue to evolve, it will change with you to better suit your needs. Examples of potential applications include: asset tracking, aviation charts for pilots planning flight routes; driver safety for long-haul truckers; disaster claims management; mobile payment application for various businesses; remote workforce management for oil and gas platforms; telemedicine for remote diagnosis; and more.
The opportunities for developing consumer applications for Iridium GO! are endless. We would like to hear from you- what mobile applications would you use on the go, in the air, at sea or off the grid? Share your suggestions here, and we will send the most creative ideas to our development partners for evaluation. Imagine your dream mobile application implemented for the Iridium GO!. Show us your creativity and innovative thinking. Make your mark now!