Iridium provided vital satellite connectivity for 20 skippers who raced around the world single-handedly on IMOCA 60 yachts in one of the most extreme ocean competitions, the Vendée Globe.  Equipped with Iridium Pilot terminals, skippers had the ability to send daily video updates via CLIPWAY to the Race Organization, access real-time weather and sailing reports, and stay in touch with family and friends throughout the duration of the race.
The seventh edition of Vendeé Globe was an unforgettable and relentless duel around the world with first place winner, François Gebart, edging out runner-up, Armel Le Cléac'h, in the closest finish to date (3 hours and 17 minutes) and in a record-breaking 78 days — smashing the previous record by almost 6 days!
The long and challenging Vendée Globe race route was not as fair to other participants as only 9 of the 20 skippers made it to the finish line in Les Sables D'Olonne.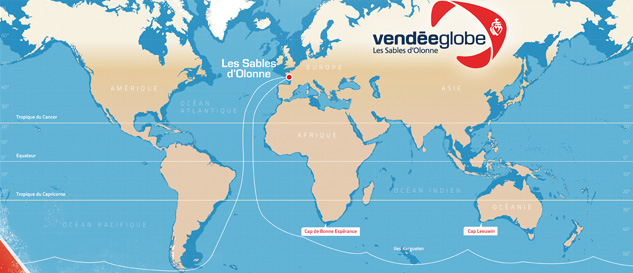 Because of the arduous conditions faced by participants, it's imperative that not only the yachts are built to the highest caliber but also the equipment onboard must withstand the extremities of the ocean.  According to Bruno Gicquel, Maritime Operations Director of long-time Iridium partner, Geolink (the communications provider for the race), the Iridium Pilot was the fitted solution:  ". . .[W]e are pleased to say that Iridium Pilot, and its predecessor Iridium OpenPort, withstood the voyages of previous races and gave us the confidence to rely on an Iridium only communications solution." Vincent Riou, skipper of the PRB, boasted that the Iridium Pilot worked smoothly, claiming that "it's a very good partnership!".
We look forward to the next Vendée Globe race around the world in 2016!