« Back
Going where no other Iridium® phone has gone before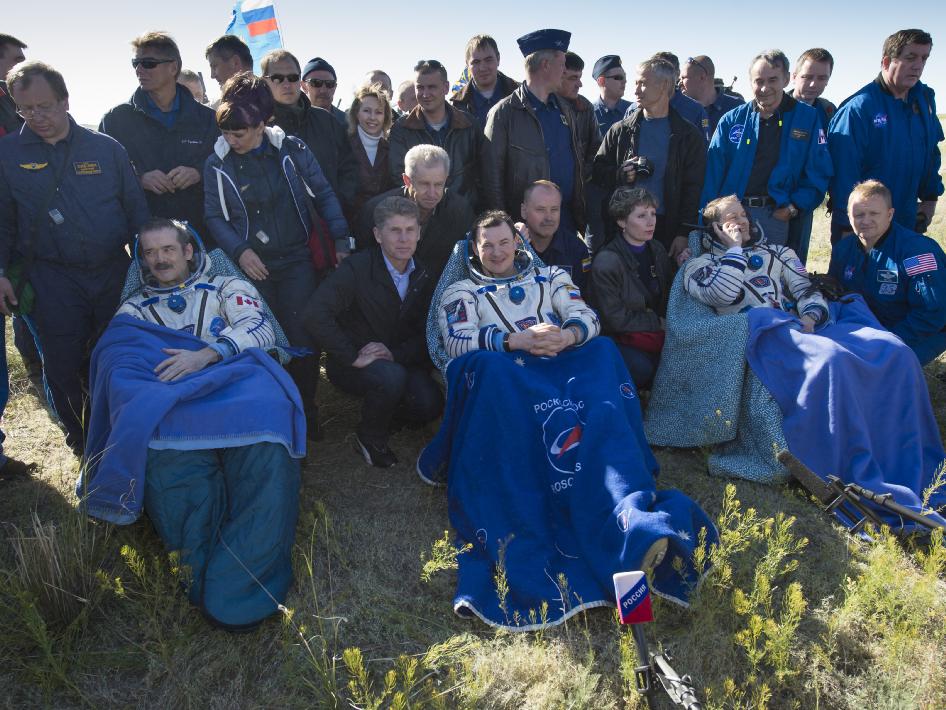 By now you have probably heard that the International Space Station's Expedition 35 wrapped up its five-month mission on May 14, 2013, and that Commander Chris Hadfield and Flight Engineers Tom Marshburn and Roman Romanenko are back on Earth safe and sound.
One part of the story you might not be aware of is that Iridium was involved in making all of this happen.
Iridium satellite phones were used by the three returning crew members as a precautionary measure in case the Soyuz Reentry Module landed off course. In fact, Mashburn can be seen in the above photo using the Iridium 9505 to make a call upon landing.
Iridium is very proud that the reliability of its global network contributed to the success of yet another critical mission.
An Iridium Russia connection in space
Meanwhile back in space, three astronauts remain to watch over the station as they wait for the other members of Expedition 36 to arrive. Russian Flight Engineers Pavel Vinogradov and Alexander Misurkin sent a very special congratulatory message to Iridium for its progress in their home country.
[youtube width="640″ height="360″]http://www.youtube.com/watch?v=ZCTi49SIUS4[/youtube]
"We value the opportunity to use Iridium services for our crews' safe return home." – Pavel Vinogradov.
The above video was shared as Iridium was hosting its first regional conference in Moscow, on May 15, 2013. The one-day event demonstrated how Iridium can serve people, organizations, businesses and government over the entire territory of the Russian Federation — as it does with the rest of the world.
Iridium is proud to provide support for such an important mission and looks forward to expanding its reach throughout Russia to keep people connected on land, at sea and in the skies.