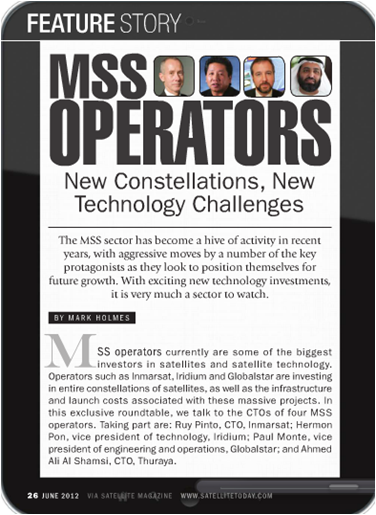 I was recently invited to an exclusive roundtable with the CTOs of three other Mobile Satellite Service (MSS) operators to talk about our latest advancements.
Following our meeting, Via Satellite Magazine published an article, "MSS Operator," that highlights our conversation. 
I was pleased to see particular attention in the article focused on some of Iridium's "big game changers" during the last two years.  One I am particularly proud of is how we have followed through on our goal to make Iridium technology smaller, lighter and less expensive.  We accomplished this by essentially miniaturizing the size of some of our existing products without compromising functionality.  For example, the new Iridium® 9603 data transceiver is 70 percent smaller than the existing Iridium® 9602, which not only gives our partners the ability to use our technology in smaller devices, but also enables a wide-range of cost savings for our customers.
Additionally, Iridium has made major progress on another game changer: Iridium NEXT. As you read back in March in the post by Scott Smith, Iridium NEXT has passed a number of major milestones. The development of our new constellation is on track and we are working with world class partners to make it all happen. 
Take a look at the article.  Everyone in the MSS space has much to be proud of and the article does a great job discussing the new challenges and technology in our sector…and how Iridium is particularly well poised to address them. 
To read more click here.