Once again, Iridium is demonstrating continued innovation in the satellite M2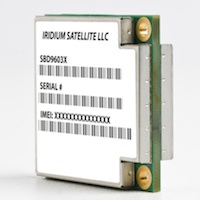 M market as part of its Iridium ForceSM strategy. As many of our readers know, this strategy works to facilitate personal portable communications through innovative approaches that reduce the size of our data and voice/data modules.
We recently exhibited at International CTIA Wireless 2012 where we unveiled the Iridium® 9603, the world's smallest two-way satellite data transceiver that is smaller than a matchbook.
The Iridium 9603 is a data module designed for embedding into machine-to-machine (M2M) solutions for remote asset tracking, monitoring and alarming in defense, government, enterprise and consumer markets where size constraints have previously limited deployments.
The Iridium 9603 breaks down design barriers and enables Iridium's 275 partners to embed global connectivity in hand-held personal tracking devices and even smaller vehicles, containers, devices for field monitoring, command and control applications, and unattended sensors.