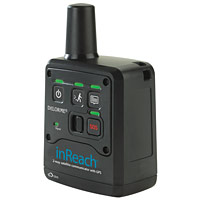 Our partner, DeLorme, just posted a great YouTube video about the DeLorme inReachTM, the first of a totally new category of affordable two-way satellite communicators combining follow-me tracking, find-me locating, SOS alerting and text messaging with a wireless Bluetooth connection to smartphones and tablets leveraging the highly reliable Iridium® global coverage network.           
Readers may recall that in March 2012, we posted that the inReach won the National Marine Manufacturers Association (NMMA) Innovation Award for Consumer Electronics. In the press release that announced the award winners, Lenny Rudow, the Boat Review Editor for Boats.com said, "With global two-way texting, it might even satisfy the communication needs of my twin 12-year olds."
Traditionally, search-and-rescue teams have had to manage false alerts from one-way locators. With two-way SOS communication, the inReach, allows communication back to the person sending the alert to ask if the emergency is real or an accidental activation, and determine the appropriate resources and urgency for the response. 
To watch the video, please click here.