« Back
Smaller Than a Credit Card: The Iridium Core 9523 Enables More Compact Devices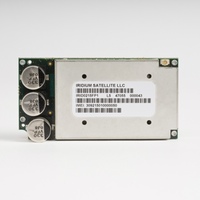 Often times, Iridium works behind the scenes as a catalyst for technological innovation. We provide products to our partners who then create new devices and solutions that change the way we communicate worldwide.
The Iridium® Core 9523 is a perfect example of this and, recently, we made it available for commercial use as part of our Iridium Force strategy. This is our unique vision for using the power of the world's furthest reaching network to bring extended and enhanced personal communications to people and organizations, everywhere. 
The Iridium Core 9523 is an updated voice and data module that is smaller than a credit card and allows partners to develop more portable, compact and cost-effective communication devices.  
Despite being 90 percent smaller than its predecessor transceivers, partners will still have access to the same global, connected network only offered through Iridium. Iridium Core 9523-based devices also has smaller and lighter antennas, and provides greater functionality due to higher data throughput and lower data latency. 
We already have 26 partners who are developing new and innovative products with the Iridium Core 9523. Here is just a handful who have been in the news lately:
FLHYT: AFIRS 228S, a global communications system for aircrafts

SkyTrac Systems: EuroAvionics EuroNav 7 Situational Awareness System, a flight following and satcom module.

ISAT-200A, an enhanced flight following and satellite communications system

Fastwave Communications: Using the new applications for their systems for the highly demanding marine environment
For more information on the Iridium Core 9523, please click here.