« Back
Guest Post: SELEX Elsag Supplied Iridium Phone Saves Major Dan Ashton in Iceland Rescue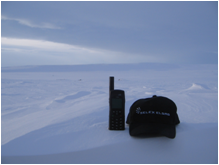 Major Dan Ashton of the British Army's Royal Corps of Signals was recently rescued from the heart of Iceland in the middle of winter using an Iridium phone.
Dan was undertaking the challenging and previously unattempted north-to-south route, across some of the most demanding environments Iceland has to offer – and doing so solo.
Unfortunately, after making good initial progress, he cracked his left lower arm and had to come "off the hills," as they say in the military.
Before his rescue, he discovered his wife could send satellite messages to his phone from the Iridium website – both agreed this was an excellent feature!
The phone coped well with the cold.  He kept it on his person at all times to keep it warm (but uncomfortable when sleeping, he observed!).
The Iridium phone, that was supplied via SELEX Elsag, a Finmeccanica company and global airtime provider, saved his life.  It enabled him to put into place the medevac rescue plan agreed beforehand with the emergency services.
Dan commented to SELEX Elsag, "Thank you again for the loan of the Iridium phone.  It was my only safety net with the outside world; and was mission-critical to my extraction and tracking.  Many thanks to both SELEX Elsag and Iridium."