« Back
Congratulations to Iridium CEO Matt Desch on being named Satellite Executive of the Year 2011 by Via Satellite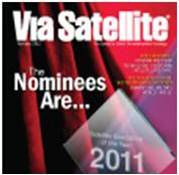 Today, Via Satellite announced the Satellite Executive of the Year 2011 and we're pleased to honor Iridium Communications CEO Matt Desch.
We have recognized satellite executives with this award for more than 20 years and are excited to welcome Mr. Desch to join this elite roster of individuals who have made a lasting impact on the global satellite market.
2011 was a great year for Iridium. In addition to strong financial performance, the company also announced Iridium ForceSM, the company's strategy to create the furthest reaching network that allows people and organizations to communicate anytime, anywhere in the world. As a part of this, Iridium opened its core technology to licensing and also launched a new handset, Iridium Extreme™. Further, this strategy also includes Iridium AxcessPoint™ which allows connectivity to Wi-Fi enabled devices such as smartphones, tablets and laptops.
Mr. Desch will be featured on the cover of Via Satellite magazine's March 2012 issue. On March 14 he will be presented with his award at the Satellite Executive of the Year luncheon and a reception in his honor will be held that evening. Both events take place at the SATELLITE 2012 Conference and Exhibition at the Walter E. Washington Convention Center at 801 Mount Vernon Place, NW, Washington, DC. For more information or to register, click here.
For more information about the announcement, please click here.