« Back
Guest Post: Ain't No Mountain High Enough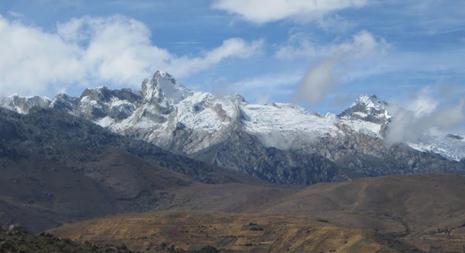 Ain't No Mountain High Enough
by Pat Gioannini
(Editor's Note: Pat Gioannini recently returned from an environmental science expedition in Peru's highest mountain range. During this mission, the scientists overcame several challenges by keeping in contact with an Iridium satellite phone. Pat wrote this special submission on Iridium 360° to thank us. If you have a story about how you use an Iridium product or service, we encourage you to leave a comment or submit it as well.)
In June, I joined a team of American Alpine Club mountaineering scientists and embarked on an environmental expedition to Peru's highest mountain range for the Cordillera Blanca Environmental Expedition 2011. The Cordillera Blanca contains the highest concentration of mountains higher than 6,000 meters (19,685 ft.) in the Western Hemisphere, as well as the highest mountains in the Tropics.
This trip to the Cordillera Blanca was the first of its kind with the purpose of assisting the local indigenous people in monitoring the health of their fragile and beautiful alpine environment.
Our mission was to collect valuable environmental samples from elevations too high and remote for most scientists to be able to visit. The data we collected is being used to assist local land managers and scientists with determining the environmental impacts of local and global air pollution and global climate-change impacts on the Andes Mountains.
We were fortunate to have an Iridium satellite phone on the expedition and it proved to truly be an essential tool for us all. At some point of the trip, every member of the team had the chance to use it:
Our team experienced several unplanned events, including the loss of one member's luggage and climbing equipment for a few days and delays in getting our scientific instruments through customs. The Iridium handset enabled us to stay in contact with the airline and customs authorities to remedy these issues.
All the team members kept in contact with their families at home, and most importantly, when two team members had to deal with some very serious family crises at home. Being able to offer support and guidance from so far away meant everything to them.
Additionally, when one of our teams became stranded on a new route and was forced to
spend an entire night at nearly 5,000 meters altitude without tents or sleeping bags, the Iridium phone was used to organize a search and the team was found.
The expedition was unusual in that we were not concentrated in one location, but split into several groups separated by several hours in distance. The doctor that travelled with us on the expedition used the phone constantly, so he could be notified of problems immediately and provide the necessary medical attention.
The expedition allowed us to collect snow and ice samples to analyze the effects of climate change on alpine environments. We took photographs and collected weather data to monitor and document environmental impacts on the region. We also collected important medical data from the trip to document the needs of expeditions in similar environments. To view some breathtaking images of the region and a few shots of our team at work, click here.
To view a video produced by one of the expedition team members, click here: Peru Summer 2011.