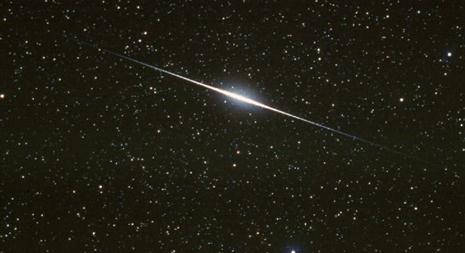 Although we're not in the business of "flare making," one of the most undeniably popular subjects about our satellite network is its "Iridium flares."
A satellite flare happens when the Sun reflects of a polished surface on a satellite. They are so bright that you can see them with the naked eye and online reports have mistaken them for balls of fire or UFOs!
The brightest and most common satellite flares come from the Iridium network. This is because there are 66 Iridium satellites in orbit, and each one is equipped with three large, flat and highly polished antennas. When sunlight hits one of these antennas, it creates a special type of flare called an Iridium flare.
Many stargazers like to watch for Iridium flares, and some have put videos online. So take a look at some of the best videos, or better yet find out when you can see an Iridium flare yourself.
Iridium flares will be gone in a few years when we launch our next generation of satellites, Iridium NEXT. Due to design improvements, our new satellites unfortunately are not expected to create flares, so enjoy Iridium flares while you can. The Iridium NEXT satellites will launch in 2015-2017 and will have only one antenna instead of three. The new antennas offer increased data speed and capacity but are angled differently than the current design, and are therefore not likely to reflect much sunlight.
A few videos to begin your stargazing:
You can see why flares are confused for UFOs in these clips from mwdroo and eightcrazymooses. Both appear to be captured with no telescope:




If you use a telescope, the flare will be even more brilliant. Take a look at this video from tcneves:


And here is an incredible video of an Iridium satellite that flares just after passing the moon – a very rare event captured by TelescopeTom:


And another bright flare from Kevision1:


Finally, take a look at this rare double flare, where two Iridium flares occurred simultaneously. Thanks to MercuriusXC, who says he or she drove 89 miles to get this video.


How can I see an Iridium satellite flare?

Want to see one of these flares yourself? You don't need to be an astronomer to track them. One of the best and easiest ways to track these flares is actually online using Twitter. If you search Twitter for Iridium Flare, you will find several bots that actually tweet when an interesting object is about to fly over a city – most often an Iridium flare. Search your city to see if one is available for you. For example, the search "iridium flare anchorage" will give you @overanchorage.
These warnings will typically come 30-45 minutes before a flare, and you can sign up for email or phone notifications when one is coming (most will not send a message if the weather is bad). If you're not on Twitter, now is a great time to sign up – and be sure to follow @IridiumComm when you do!
If you own an iPhone or iPad, it's even easier to find flares using the Iridium Flare App. This app will tell you when and where a flare is about to appear, and will even help you get to a place where you can see it.
If you don't have a smartphone, you might want to try http://www.heavens-above.com/.
Heavens Above will give you a prediction up to a week in advance when you create an account and enter your latitude and longitude. However, note that predictions are not usually accurate that far in advance, and you will have to check again about half an hour before the event.
Do you have advice about how to see an Iridium flare? Let us know. Leave a comment below and, meanwhile, happy gazing.